Customer Feedback and Reviews
We are more than an insurance company, we are pet people too, and we are extremely proud to have issued more than 130,000 pet insurance policies since launching in 2008. Hundreds of our customers have sent us their feedback and shared their stories about how our pet insurance cover has helped them in times of crisis, when their pets haven't been well.
We are very proud to have been awarded Product Review's Pet Insurer of the Year for 2018, 2019, 2020,2021 and again for 2022!
You can read thousands of independent customer reviews on the Product Review site, where we have received the most positive reviews of any Australian pet insurer, and are rated 4.2 out of 5  based on 2,346 real customer reviews (as at 13/01/2022).
Pet insurance reviews
Our beautiful dog Charli is now 7 years old and has had to have 4 major operations to remove benign lumps. Bow Wow Meow (which we have had for over 7 years) has covered 80% of these costs each time which was an enormous financial help for us. The service has been outstanding and we have had absolutely no issues in resolving the claim. It was a simple, stress free process. Our pet insurance has been a lifesaver for us and the best thing we did."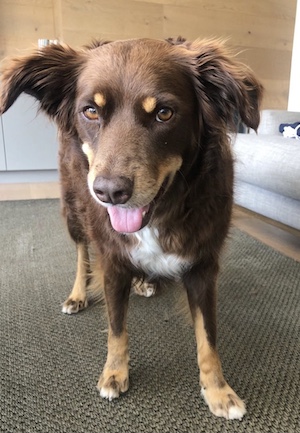 Charli
Amanda's beloved Border Collie x Kelpie, Charli, has repeatedly had benign lumps growing on her body, each of which has required expensive surgery to remove. She says that her Bow Wow policy has been a lifesaver.
A few years ago, our newly adopted Australian Sheppard Sunny, cleverly opened a childproof bottle of gout medication and a bottle of herbal sleeping tablets and consumed them all. The animal hospital said she had a 30% chance of survival and, had she been a smaller dog, she would certainly not have made it. She remained in hospital for the week where she was treated and nursed back to health. The entire stay plus all the intervention and assistance to keep Sunny alive was covered by Bow Wow Meow, with almost $3,000 reimbursed to us with no fuss. Sunny is going to be 12 next month and is in perfect health. Hopefully we will have many more years with her and we are so grateful she got a second chance."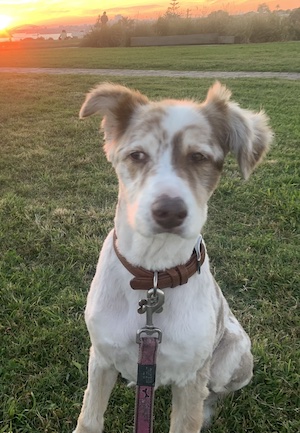 Sunny
Lara and Paul's Aussie Sheppard Sunny nearly died after she ate gout medication and sleeping tablets. Bow Wow Meow paid out over almost $3,000 for her treatment to get her back to full health.
Hi my name is Flynn and I just turned 1. I love going for walks, eating socks, pulling the washing off the line and following my humans around. At 6 months old I became really unwell - I was septic and was also diagnosed with toxoplasmosis and a number of autoimmune conditions. I am now on long term medications and lots of TLC. Thanks to Bow Wow, I was able to receive the care and treatment I needed to get me feeling healthy again. Thank you so much Bow Wow!"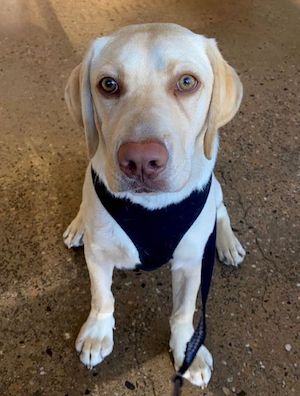 Flynn
Molly and her puppy Flynn live in Wodonga, Victoria. Flynn was seriously unwell a few months ago and Molly says that signing Flynn up with Bow Wow Meow is the best thing she's ever done.
"Having pet insurance has helped us greatly - we were able to get the surgery for Hershey when he needed it knowing we didn't have all the added stress and worry of money. This meant he didn't have a long period of suffering and pain whilst we found the funds to cover surgery. The process was so simple and easy. It's been great knowing we have the peace of mind and relief by being insured with Bow Wow Meow!" August 2019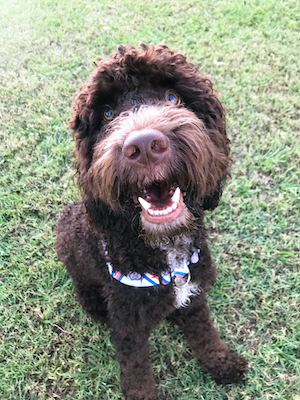 Hershey
Hershey's mum Codi says it was such a relief knowing they were covered and could opt for surgery immediately to help relieve his suffering.
It was a bit of a shock when our 2.5 year old rescue cat Bruce started limping severely in February 2020. A couple of vet visits and x-rays later, Bruce got diagnosed with Physeal Dysplasia which is a genetic condition and led to his hip being broken. The surgery cost just over $5,000 and Bow Wow Meow reimbursed $4,092 within a week. Earlier this year I thought about cancelling his policy because we never used it, and I am so glad we didn't."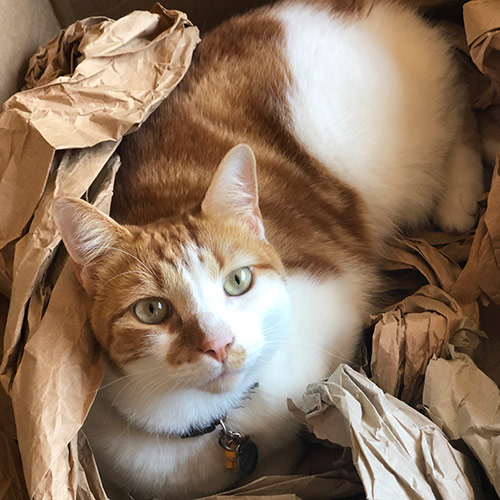 Bruce
2.5 year old cat Bruce needed an unexpected hip surgery of $5000 because of genetic condition. Bow Wow Meow reimbursed $4,092 within a week.
"I'd love to share with you my experience with Bow Wow Pet Insurance. I have a boxer named Drake, he's now 2 years old and in great health. Last year we were walking by the beach in Melbourne when he was unfortunately attacked by a passing dog. Drake received deep lacerations to his head, jaw and neck which required a local anaesthetic, stitches and one stressed out owner. I was a nervous wreck but with the help of the local vet and Bow Wow the process of Drake's treatment and recovery was quick and easy. Thanks for being there when we needed it most!"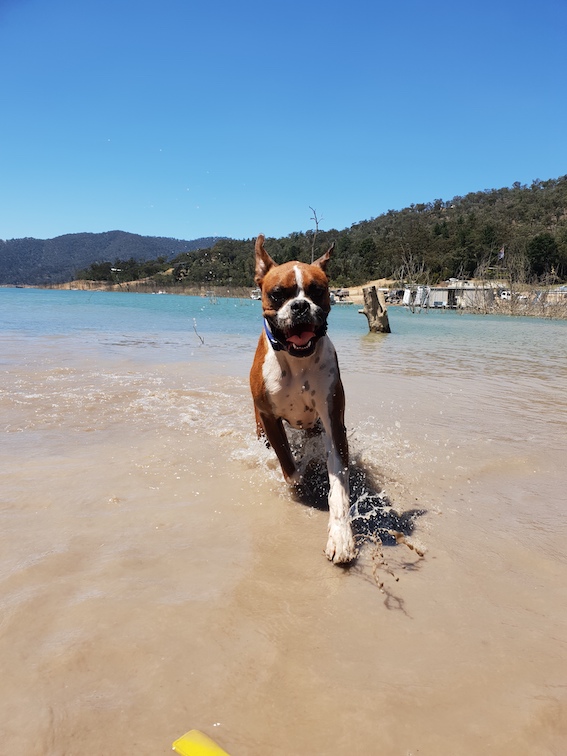 Drake
Drake the Boxer was attacked out of the blue by a passing dog. Poor mum Melissa was a nervous wreck by says that thankfully his treatment and recovery were quick and easy. She thanks Bow Wow for beeing there when they needed it most.
"I would like to thank Bow Wow Meow for making all my insurance needs so simple and pet friendly! My baby pooch broke his hip and Bow Wow Meow were super efficient in attending to all my needs. At a time where I was incredibly worried about my little Hardy, BWM were there for support and peace of mind. I was covered for most of my expenses for the surgery and follow up appointments. Which made the expense affordable. For a small amount of around $17 a fortnight, and I had only been a member for just on 6 months, I was fully covered for the unexpected! Thank you Bow Wow Meow!"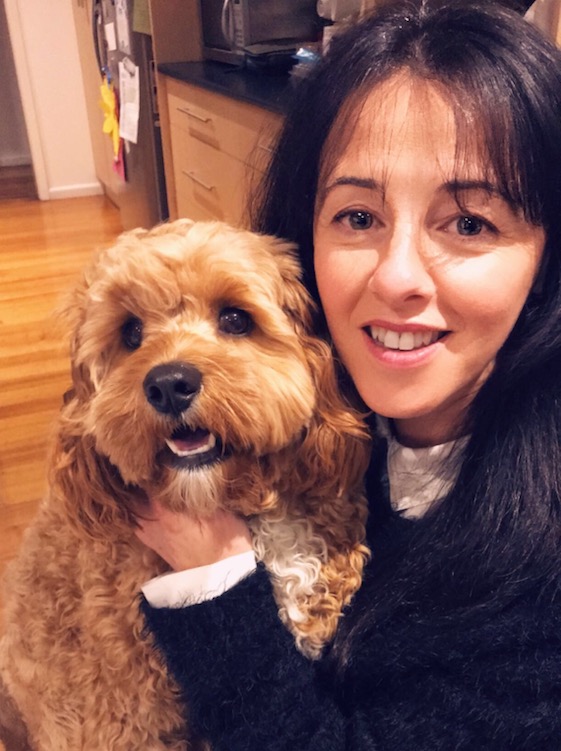 Hardy
Grace's puppy Hardy broke his hip and had to have surgery. Grace was very impressed with the service and payout she received, and thinks the $17 per fortnight that she pays is great value.
"I have an insurance policy for my 3 year old Labrador Lollie. Lollie was recently hospitalised for 4 days after being bitten by a snake. Having the insurance meant that we were able to afford the best of care for Lollie at what was a very difficult time for us. It was reassuring to know that we did not have to worry about the cost of her care on top of wondering initially whether our beautiful girl would even survive or whether there may be any ongoing effects of her illness. Thankfully Lollie has made a full recovery and we have been extremely satisfied with the support of the team at Bow Wow Meow in processing our claim. Lollie and I are back together, doing what we love – she is my running partner, loves long walks and cross country adventure challenges – the muddier the better for her!"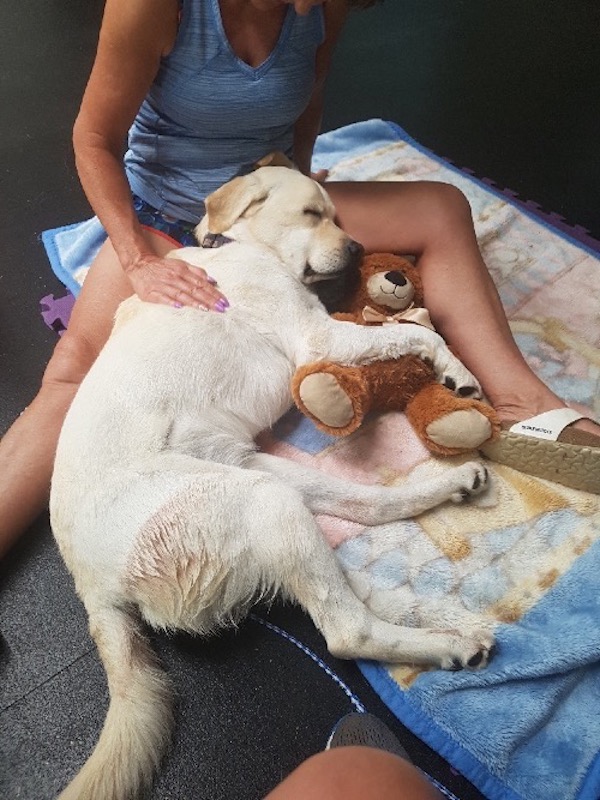 Lollie
Rowena's Labrador Lollie was bitten by a snake and had to be hospitalised for four days. Rowena shares her story with us and points out how reassuring it was having insurance during such a stressful time.
"My feedback is 110% positive and I can't speak highly enough about our experience. Indie was only 16 weeks when she fell off the couch the night of my 30th birthday… she was crying in agony so we knew something wasn't right! We had to bring Indie to the emergency vet who performed x-rays immediately and it turns out she had fractured her elbow and required surgery which was going to cost approx. $5000-6000. The surgery was quite complex because Indie was so small - at the time weighing just over 1kg. The surgeon actually had to order in special screws and bolts given her size. We were so shocked at what the surgery was going to cost and we weren't sure if our policy would cover the surgery because we had only taken it out a couple of weeks previously. When I phoned Bow Wow Meow the following day your staff member couldn't have been more helpful and assured me Indie would be fully covered under the policy, explained what documents we required to submit the claim and advised it would be quicker to lodge the claim online. He was very sympathetic which was very much appreciated. Indie had her surgery on the Tuesday which went very well and was in recovery for a few days before being let home - she recovered 100% without any further issues and is a happy, healthy, fun loving dog. I submitted the claim about a week or so later exactly as advised by your staff member and my claim was paid within 2-3 days without any queries or hesitation. While the whole experience was very distressing, how Bow Wow Meow handled our claim made our experience so much easier not having to worry about the cost of the surgery and taking the choice of having the surgery or not out of the equation - we were just able to do what was best for Indie as recommend by the vet and surgeon. Thank you for providing an outstanding product and service. Indie is a major part of our family, she is very much our fur baby who lives inside with us so we would have done anything to make sure she was ok and Bow Wow Meow gives us the peace of mind knowing that we will always be able to do what is best for Indie now and in the future". May 2019

Indie
At age of 16 weeks, Sandra's puppy Indie, weighing only 1kg, fell off the couch and fractured her elbow. 
We thank Sandra for sharing her experience with us.
"I had noticed my beautiful 5 year old Burmese boy, Dex, visiting his litter tray much more frequently than usual. He also became a lot more vocal before, during and after each visit. Usually a playful, loving and needy boy, it was clear that something was not quite right. A visit to our vet confirmed Dex was suffering with FLUTD (feline lower urinary tract disease), caused by a build up of crystals. Obviously, this was extremely upsetting for me and terribly painful for Dex however knowing that I had Bow Wow Meow Pet Insurance, put my mind instantly at ease. The staff at Bow Wow were absolutely amazing throughout my claims process and within 5 days, I received my refund. It just goes to show how important pet insurance is, not only for your back pocket, but for peace of mind in knowing that your fur babies will be taken care of."

Dex
Ilana shares her recent experience when her Burmese Dex suffered from a very uncomfortable urinary tract infection.
"After going through a traumatic heart-wrenching experience with my Miniature Dachshund Cooka, the vet expenses were overwhelming. I contacted Bow Wow Meow and explained my current situation. The operator was helpful, understanding, patient and empathetic and I was refunded within 8 days. I can't thank the entire company enough for the fantastic service that you gave me, it was honestly one of the best I have ever received. I am content knowing I have a provider who sticks by what they promote and offer. Thank you from both Cooka and I."

Cooka
Policy holder Nasha Poulos went through a very difficult time when her Miniature Dachshund Cooka became ill. She contacted us to thank us for the excellent service she received when she made her claim.
"I originally bought this insurance just for peace of mind – and having two dogs went for the major medical cover "just in case". Well, it happened – one of my dogs was bitten by a large black snake and fortunately I was home at the time and knew straight away so rushed him to the vet. The treatment was very expensive (he needed two vials of antevenom) and it was a huge relief not to have to worry about where I was going to find the money because I was stressed out enough worrying about my dog. The claim was settled by Bow Wow very quickly, and I just want to thank you for providing this insurance and for the good service I received."

Monty
Alessandra has shared her story with us about the trauma of her dog Monty being bitten by a snake.
"I switched to Bow Wow Meow from Pet Plan about 5 months ago because I could not take the horrible service and loops I had to jump through over at Pet Plan. I had enough but was reluctant to switch... will I have to deal with the same thing? So I called your customer service line and spoke to a wonderful woman who talked and walked me through everything. I told her my concerns, and she talked me through those as well...the service was light years beyond my old insurance. Then, following that, any time I have called I have received the same wonderful, happy, kind service. Like your employees are actually happy doing their job and that makes me feel good. They are friendly, upbeat and explain everything in detail. I also love the text message notifications and how easy to read and fill out your claim forms are as well as how easy to understand your remittance advice forms are. Clear as a bell, no confusion here! Thank you so much, my dog Brooklyn and I are so grateful we switched!"

Brooklyn
Brooklyn's owner Kelsey, contacted us to say how pleased she has been with our company, our service, staff and little extras since changing over from another pet insurer.
"Our dog Frank loves to eat and loves to explore. Unfortunately when he was a pup he didn't always know what was good to eat and what wasn't. This resulted in a bout of poisoning requiring an emergency vet consultation, investigative tests and an overnight stay in the vet hospital. Having Bow Wow Meow pet insurance meant we didn't have the additional worry or difficult decision making associated with the cost of his course of treatment. He made a full recovery and is happily back to his playful and energetic best. The bill came to several hundreds of dollars, however making the claim to Bow Wow Meow was straight forward and they promptly paid our claim. To anyone considering taking out pet insurance, I would say, do it, you won't regret it, pets are worth it."

Frank
Diana's dog Frank, an Australian Cattle Dog managed to swallow rat poison and received a bad case of poisoning. Bow Wow Meow paid out $762.30.
"We decided to insure our 18 month old Rottweiler Keira for peace of mind against any large unwanted vet bills. Unfortunately, Keira fell from a high fence and suffered a leg injury. She went through treatment for the injury which included surgery and treatment for a subsequent infection. We were obviously very concerned for our Keira and it was a relief not to have to worry about accumulating vet bills. On completion of Keira's treatment we lodged our claim with Bow Wow Meow. We found the claim process to be quick and easy. I would recommend to people to insure their pets and highly recommend Bow Wow Meow as an insurer. Keira has recovered from her injury and is doing well."

Keira
Andrew Smith's Rottweiler, Keira fell from a high fence and injured her leg in the fall. Bow Wow Meow paid out $3,388.00.
"I would like to thank you for the swift payment and overall easy process when my British Bulldog "Diva" required surgery on two occasions last year. From carrying out the initial online registration to provide the insurance cover for my dog to then having to go through the procedure of making two separate claims in such a short space of time, I have experienced the full service of your company in relatively quick succession and have to say I have been very impressed firstly with the ease (no masses of form filling) and secondly the speed of these transactions (after sending a copy of the vets bill I received the cheque for payment for each of my claims very quickly). Whilst they were only minor operations it gives me peace of mind that I have chosen a good product that I have recommended to a number of my friends who also own dogs. Many thanks for your help from myself and Diva."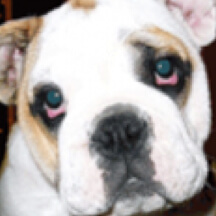 Diva
Mark Potter's British Bulldog, Diva developed Cherry Eye in each eye. Cherry eye is a common eye disease for which surgery is the only treatment option and appears as a small red bump which protrudes above the eyelid. Bow Wow Meow paid out $780.21.
"When our puppy Stanley was 9 months old, he needed to have surgery on his front right leg. Whilst he'd been growing from a pup, the bones in his right leg had grown at different rates, with one stopping growing before the other, causing his leg to bow. So at 9 months old Stan was nearly lame, in incredible pain, and showing signs of arthritis in 2 of his little joints. He required surgery to fix the problem. We had only been customers with Bow Wow Meow for a very short period of time when Stanley required this surgery, and we were just amazed that our claim was accepted and processed with a minimum of fuss. From start to finish, we accumulated over $4,000 in vet bills, and Bow Wow Meow reimbursed us every cent. We cannot say enough about the service we received, and it was such a comfort to know they had our backs during a difficult period. I would not hesitate to shout from the roof-tops – "Get yourself some Bow Wow Meow Pet Insurance, you'll be glad you did!"

Stanley
Rachel and Gary's Scottish Terrier, Stanley had a bone deformity which caused his right leg to grow at a different rate to the rest. Stanley found himself in significant pain at 9 months old. Bow Wow Meow paid out $4,112.37.
"Our six month old puppy "Jackson Oakley Hood" was diagnosed with a luxating patella which means that his knee would dislocate continuously when he was walking. We took Jackson to an orthopedic surgeon who performed a knee reconstruction and Jackson is now nearly fully recovered. We were very fortunate to have pet insurance, as the operation and treatment cost close to $4,000. Bow Wow Meow provided us with prompt, courteous and helpful service and we are very thankful to them for their assistance as it ensured that Jackson could receive the best possible treatment".

Jackson
Carin & Chris's Maltese Cross, Jackson, was diagnosed with a Patella Luxation and had to have a knee operation. Bow Wow Meow paid out $3,631.34.
"We took Milo to an orthopaedic surgeon who performed a shoulder arthroplasty, which essentially involved creating a false shoulder joint." Milo is now seven months old and starting to use his leg again. He is expected to make a full recovery."We were ecstatic that we made the decision to take out pet insurance. Milo's operations cost approximately $6,500. Without Bow Wow Meow we most likely would not have been able to have Milo's operations performed."

Milo
Melissa & Michael's Cavoodle, Milo, was diagnosed with a shoulder luxation and required two operations. It was first picked up when Milo dislocated his shoulder at four months of age. Following the initial surgery Milo continued to be in pain and was at risk of further dislocation. Bow Wow Meow paid out $6,000.
"Thank you Bow wow insurance for saving my life! I must be very lucky because my owners saved my life by rescuing me from starvation off a rural property only 3 months ago. They were smart enough and caring enough to take out a policy with Bow wow insurance 'just in case'... Well, that dreadful moment arrived and I needed surgery to save my life again! I have a photo of me recovering, and a photo of me happy and healthy today (I'm so cute)! Thanks to Bow wow, I am fully recovered now and back home with my new family where I am showered with love and care".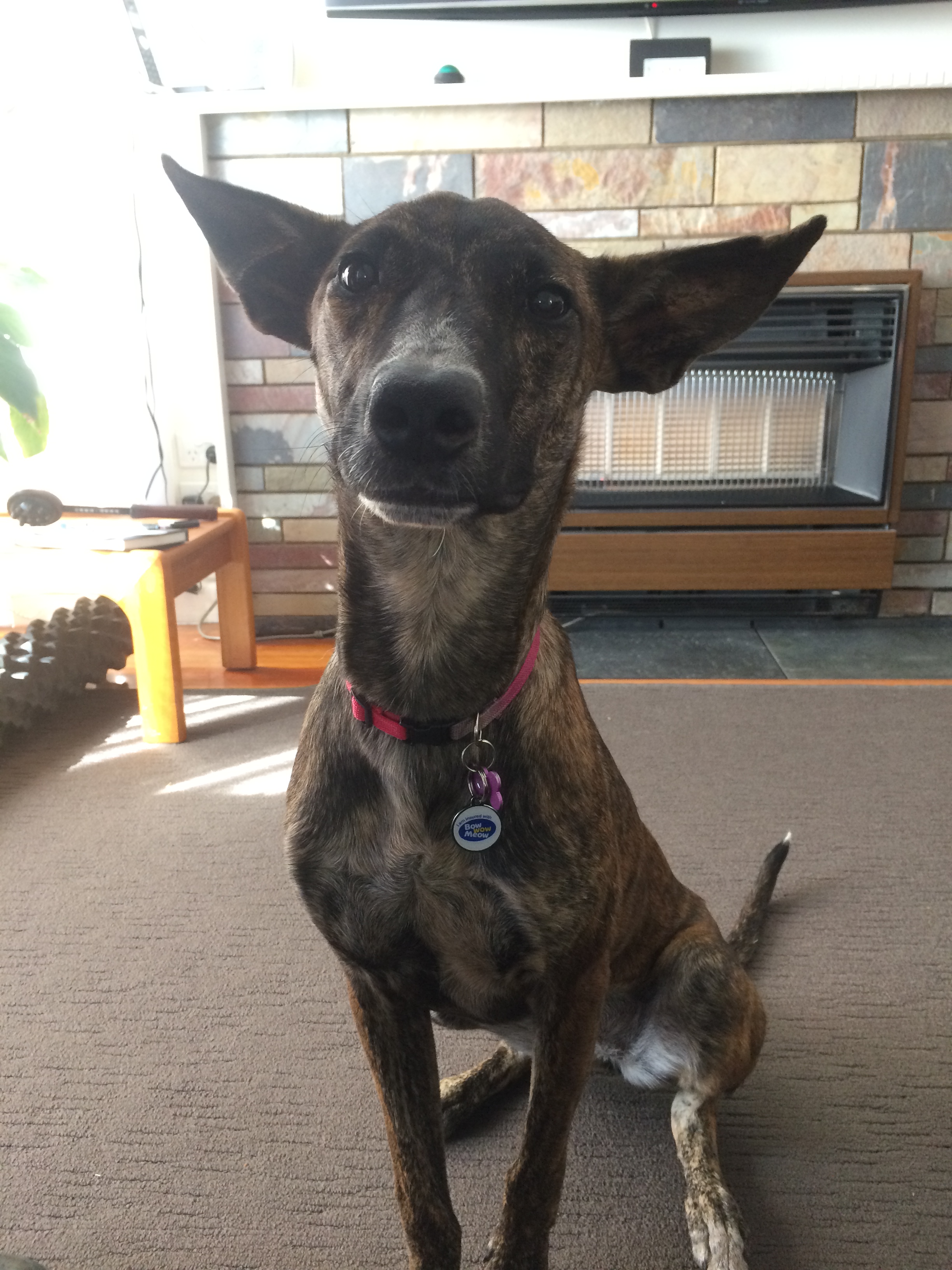 Kiki
Michael's rescue dog Kiki needed life saving surgery. Kiki has fully recovered since the operation.
"Bow Wow Meow has given me such piece of mind and even though you hope to never have to make a claim because no-one wants to see their dog get sick, Millie became ill and once they found out what was wrong with her she had to be operated on which was very distressing at the time and she has since made a full recovery. However the best part of all of this was that I had pet insurance with Bow Wow Meow and the claiming system was so easy and it caused no stress and I was reimbursed very quickly. I have also found that when I have contacted Bow Wow Meow the customer service is amazing and I have since recommended a friend and my sister to insure their pets with Bow Wow Meow".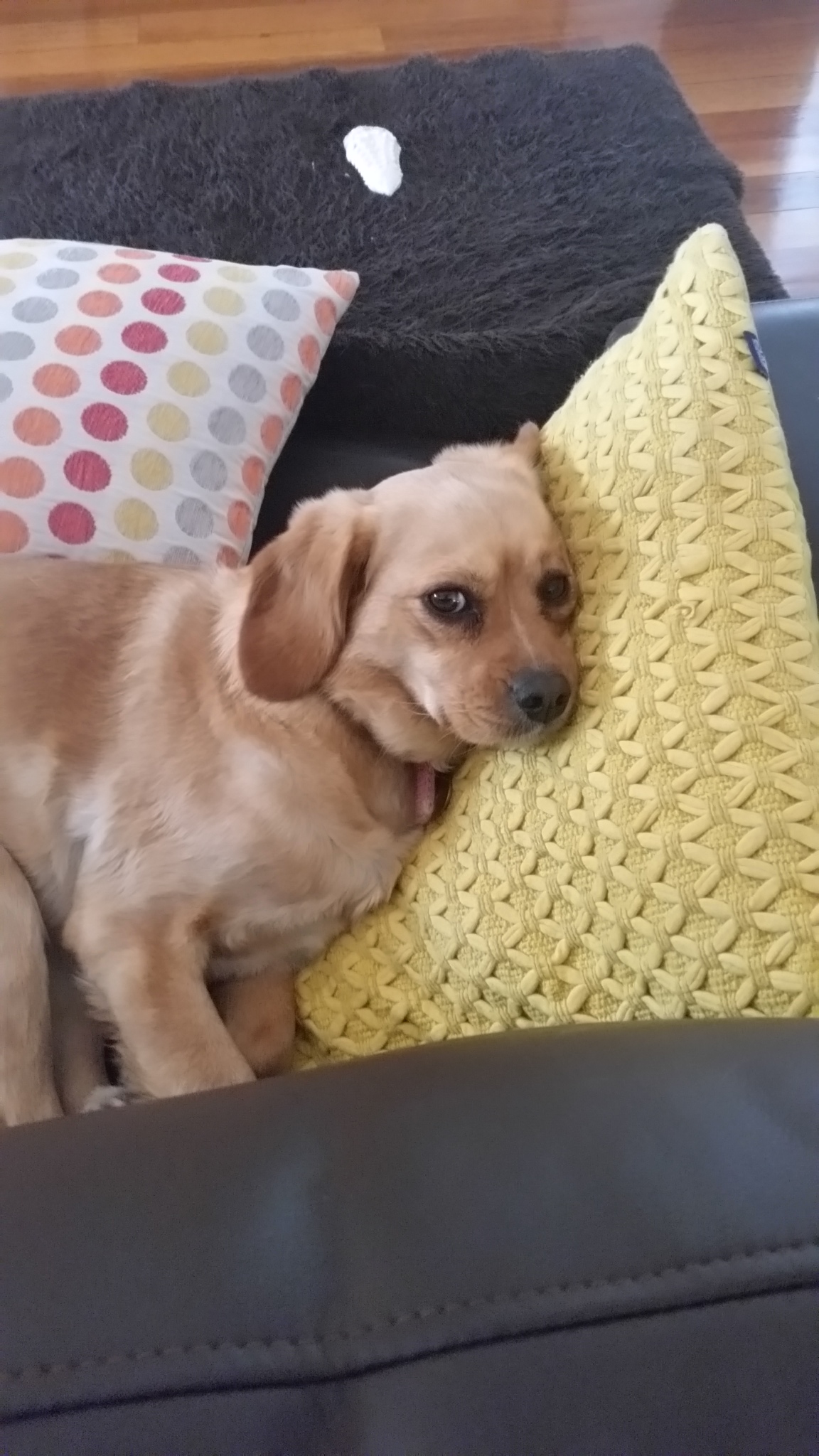 Millie
Wendy's dog Millie became really ill and needed an operation. She found the claim was processed quickly and customer service was amazing.
"Bow Wow Meow Pet Insurance has helped us have peace of mind knowing Zeus is covered. As you would be aware any pet is an important member of a family BUT more so Zeus in our family, not only is Zeus Byron's companion but also is there to help lower Byron's anxiety due to his autism. Zeus gives Byron more independence, confidence and helps within Byron's daily living to help achieve goals. Zeus goes everywhere with us and Byron loves him dearly".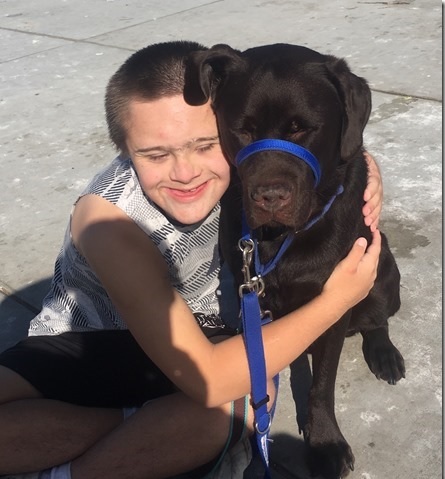 Zeus
Zeus, the companion dog, to Byron helps lower his anxiety due to his autism. Zeus goes everywhere with Byron and mum Christina loves the Peace of Mind that Bow Wow Meow provides.
"Bow Wow Meow helped our miniature dachshund Hugh when his sister, miniature schnauzer Penny, scratched his eye during play! Hugh's eye became quickly swollen and irritated, and we had to rush him to our vet on a Sunday which meant huge fees for us! Hugh had to have a local anesthetic put in while the vet examined his eyes. We were so lucky that it was a superficial scratch to his cornea! Thankfully Bow Wow Meow covered our expensive Sunday vet consultation and costs of the anesthesia / medication for his eye. The claim was processed and paid so quickly into my account. Thank you Bow Wow Meow!"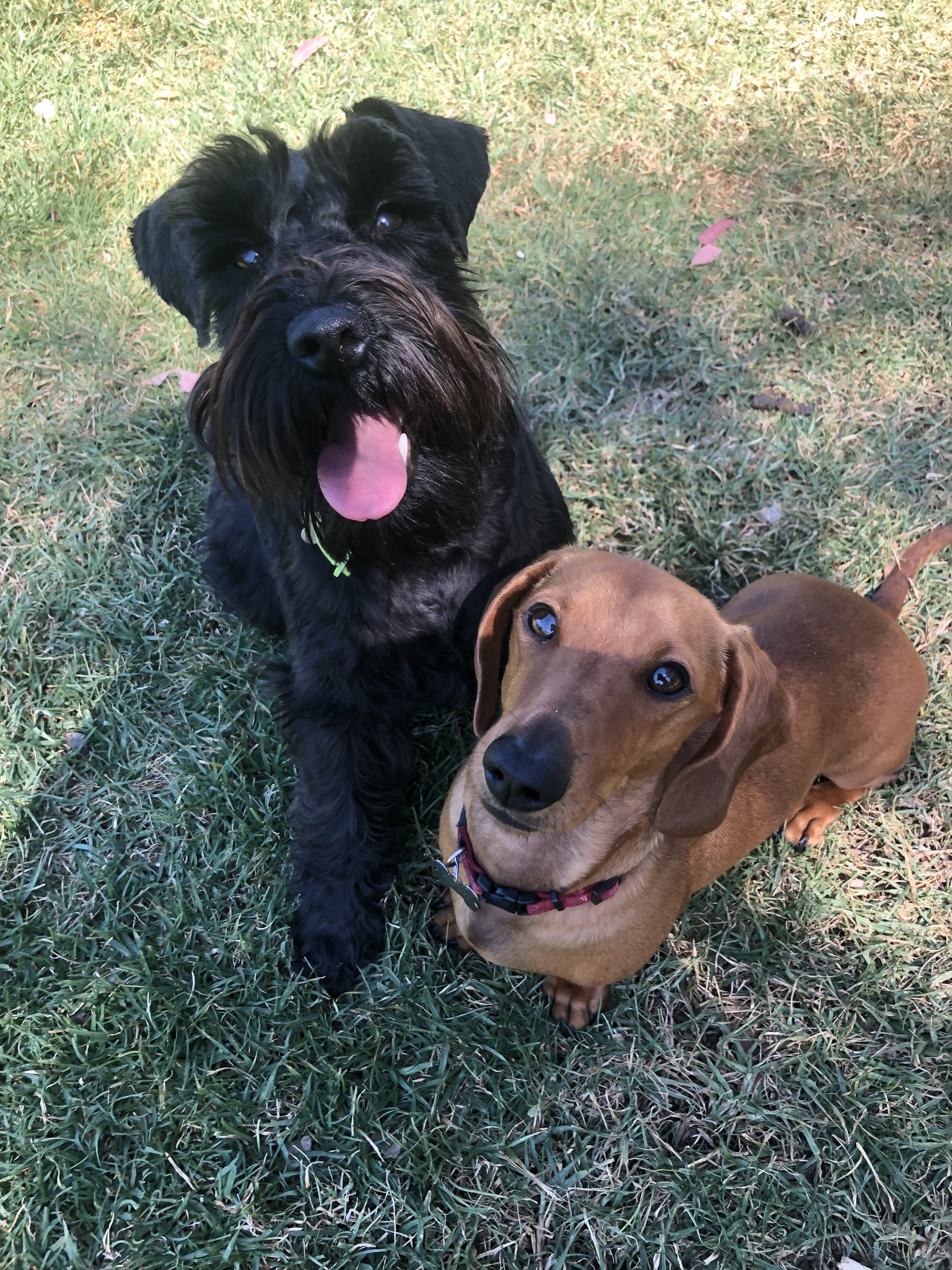 Hugh
Nicole's miniature dachshund, Hugh, was scratched in the eye by his 'sister', miniature schnauzer Penny during play. Following a local anesthetic, Hugh was thankfully OK and Nicole was happy the claim went through smoothly.
"Recently our lovely Wonder developed some nasty heat spots due to an allergic reaction to her food. After a few trips to the vet we were prescribed some medication and put onto some new food for her. It's so great having Bow Wow Meow as our insurer as it gives us the peace of mind that no matter what happens we won't be out of pocket too much money compared to being uninsured and we can just focus on getting our girl healthy".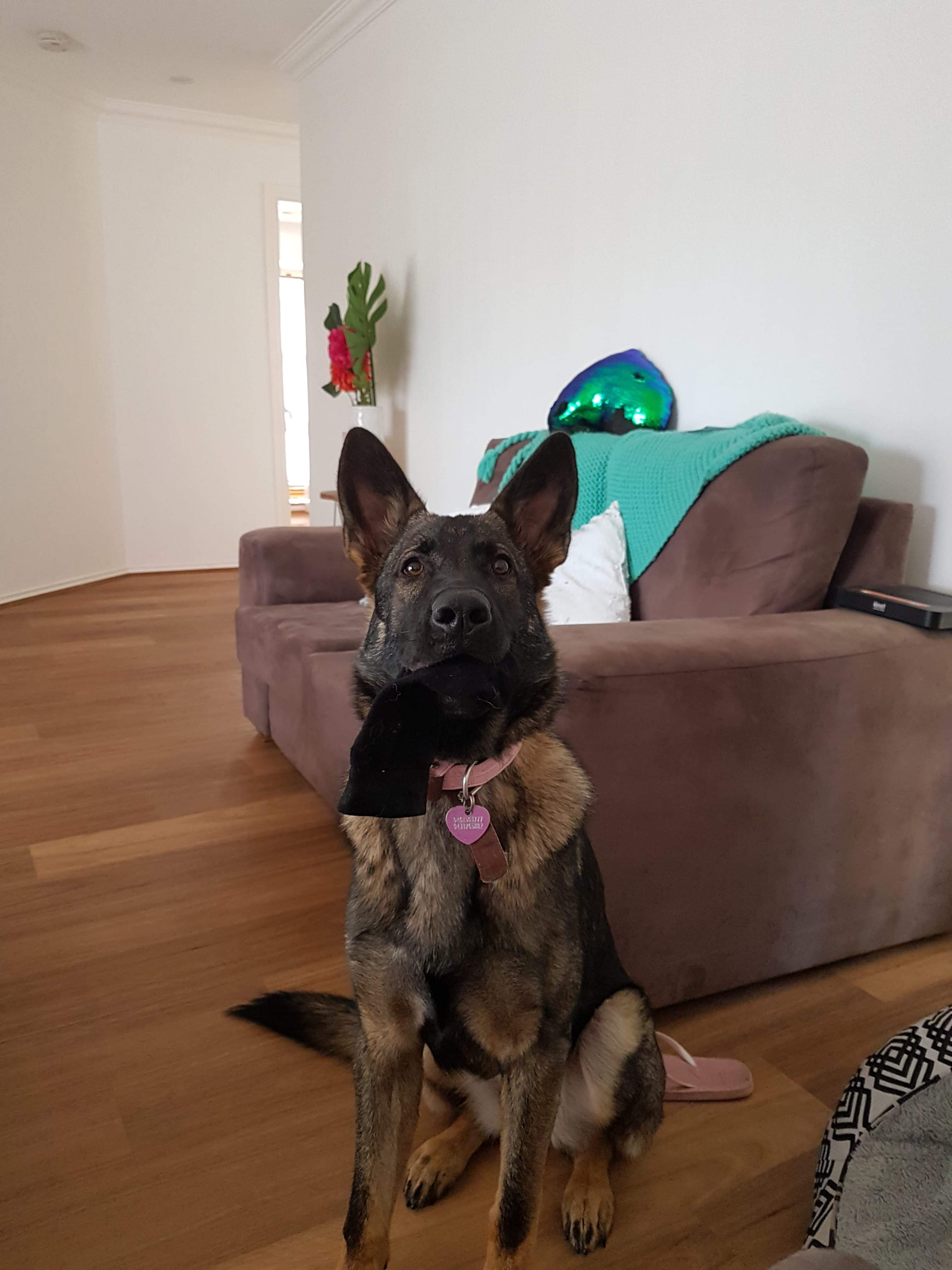 Wonder
Kieren's dog, Wonder, developed heat spots and was happy with the treatments being covered by Bow Wow Meow and the peace of mind that comes with it. March 2019
Bow wow meow pet insurance has been a life saver for our boy Bentley who loves ingesting things he shouldn't! Insurance with Bow wow meow meant there was no financial hard ship to worry about when our boy had to have life saving surgery. Thanks Bow wow meow!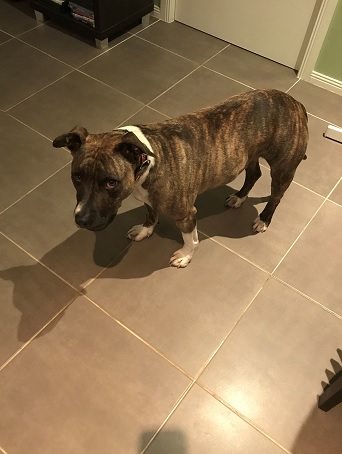 Bentley
Rachel appreciated the financial assistance she received from her Bow Wow Meow Pet Insurance for her boy Bentley, who had lifesaving surgery.
We have not had a good run with our baby Reggie. Bow wow meow has been a god send. It has saved our bank account and our marriage. Every one I meet who has an animal I always explain how imperative it is to get pet insurance and defiantly with BOW WOW MEOW. Thank you so much from the bottom of my heart for all the help and assistance you have provided so far, would be lost without you. From Angie, David, Kenya (daughter), Mushka (cat) and Reggie."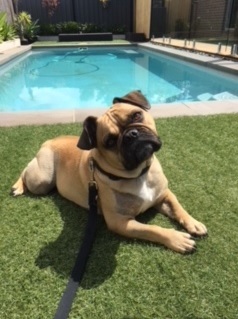 Reggie
Bow Wow Meow Pet Insurance has been a God send for Reggie and their owners Angie, David and Kenya. Mushka, the cat is happy too :-)
Bow Wow Meow helped us in a very hard situation. My husband and I went for holiday to Italy last year and left our furry baby Lilly (English Staffordshire bull-terrier) with our friends. The day we arrived in Italy we received a phone call from our friends saying that Lilly had been taken to the hospital for emergency surgery on her tummy due to chewing a rope toy. Her belly was completely blocked and she would have died if she didn't have surgery immediately. When we received the phone call, Lilly had been already operated and our friends covered the whole cost of the surgery which was around $8000!! Pointless saying how grateful we will always be to our friends to save our baby and to endorse such a big expense for it. We were so lucky to have the Bow Wow Meow Insurance! The process to submit the claim was super easy even more because we had to deal with all these while overseas. We were able to get back nearly $6000 and pay back our friends straight away! Thank you so much Bow Wow Meow! And no more rope chew toys for Lilly February 2019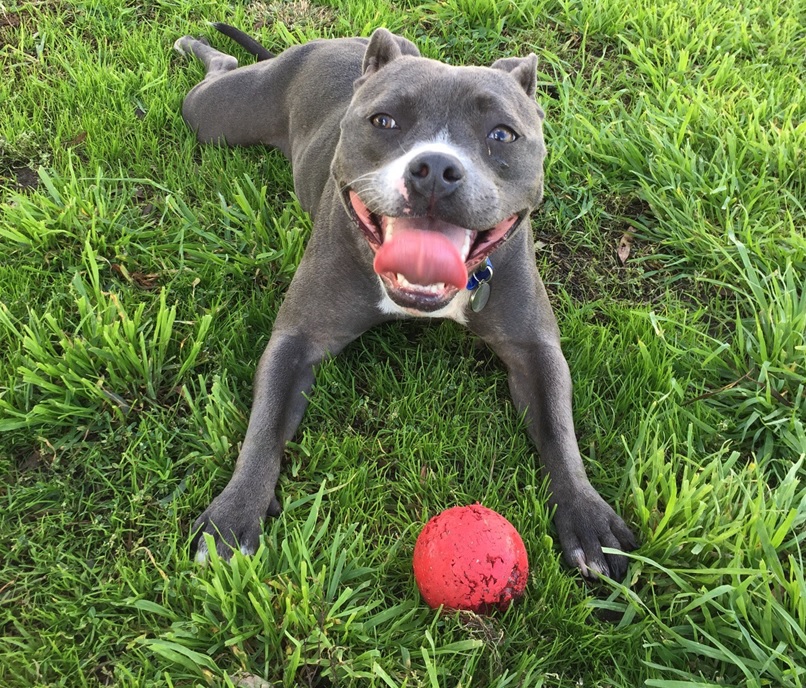 Lilly
Silvia's English Staffordshire Bull-Terrier, Lilly, managed to end up in surgery for chewing a toy rope. Silvia was thankful that Bow Wow Meow paid out such a large claim and that it was a an easy claim process.
Our precious boy was attacked by another dog at only 8 months. He required 10 tablets a day, regular visits to the vets and his wounds flushed regularly. Thanks to bow wow and having insurance that was one less stress I had. Bow Wow were super quick with payments. Having Bow Wow gave us great piece of mind at our worst moment. Thanks Bow Wow January 2020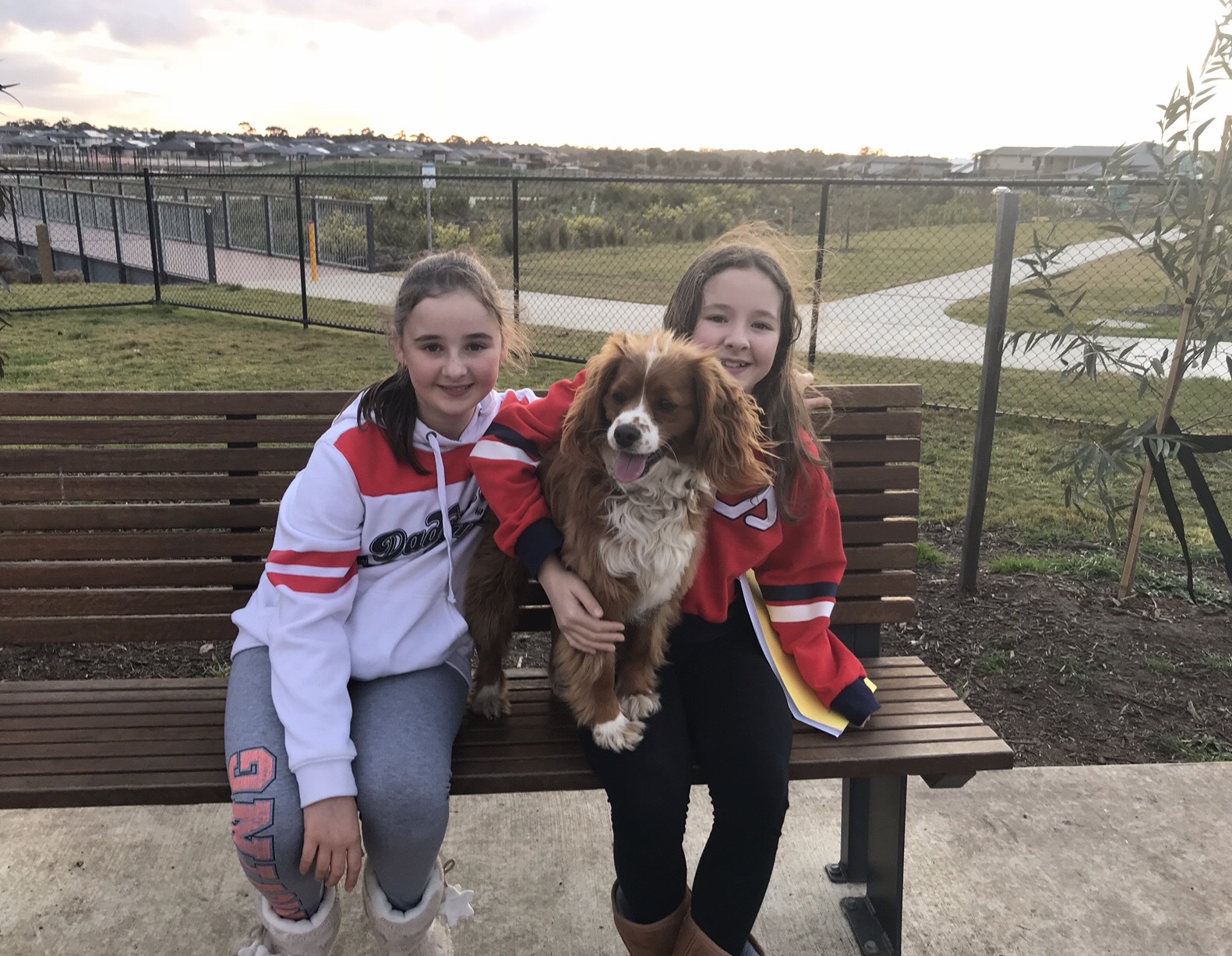 Chewbacca
Bow Wow Meow meant one less stress to think about as Ash's dog was attacked by another, at 8 months of age.
In the last 2 years of claims, you've helped our family considerably. Cancer and infections, easy and no worries or issues on any of our claims (and there has been A LOT). Thank you so much for keeping our family together for the past few years. April 2020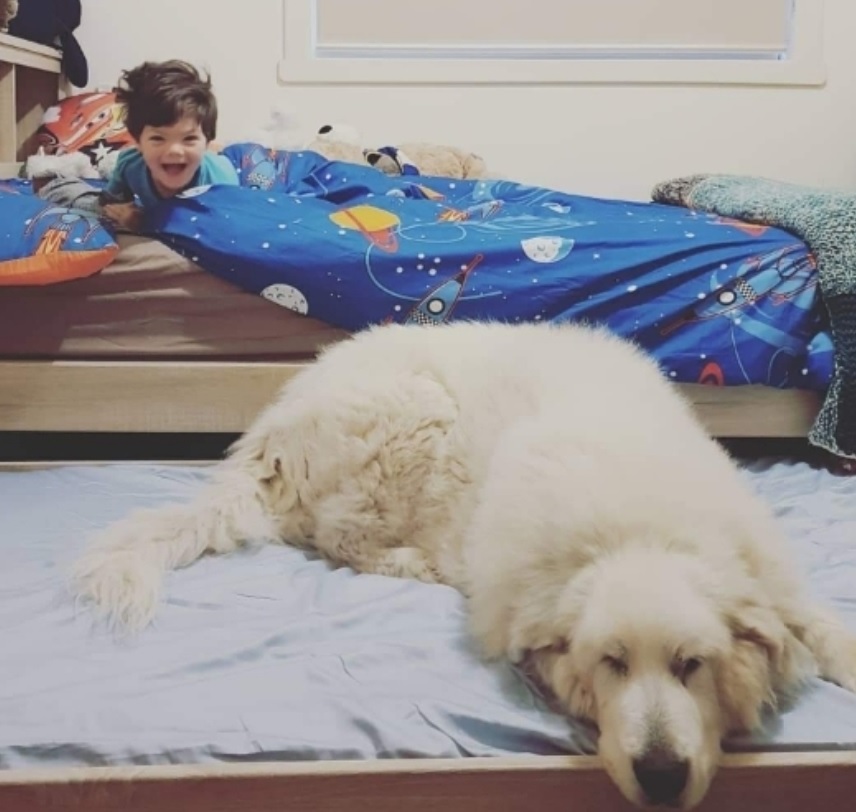 Karma
Karen's dog Karma has been treated for cancer and infections over the last 2 years (poor thing), and appreciates the fact that her vet bills were covered each time.
I would never go without pet insurance, ever since being with Bow Wow Meow I've had piece of mind knowing my Toy Poodle, Ruben would be in safe hands if anything goes wrong. He had a difficult time as a puppy and spent the first two weeks in intensive care, having Bow Wow Meow insurance was life saving! I wouldn't have been able to afford his vet bills otherwise. Ruben and I thank you immensely! June 2020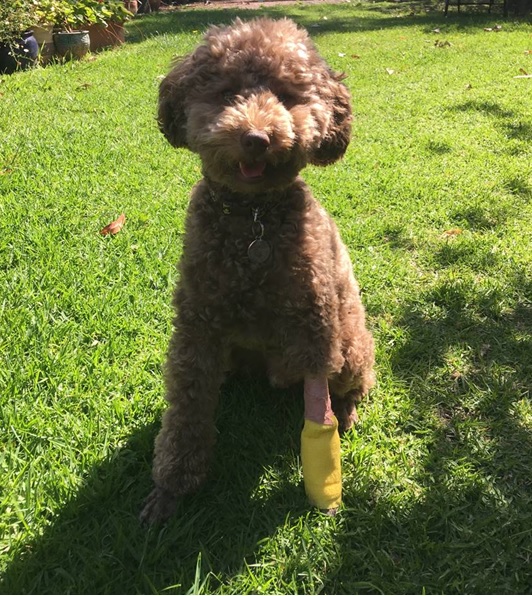 Ruben
Poor Ruben landed up in intensive care for 2 weeks when he was a pup. Thankfully his owner Melissa, took out pet insurance with Bow Wow Meow and now would not ever go without it as Ruben received life saving care which Bow Wow covered.
Robyn's Rottweiler Hank recently need x-rays and blood tests which were very expensive, having Bow Wow insurance made claiming stress free and quick in receiving our refund. I would recommend Bow Wow to anyone looking at insuring their pet. October 2019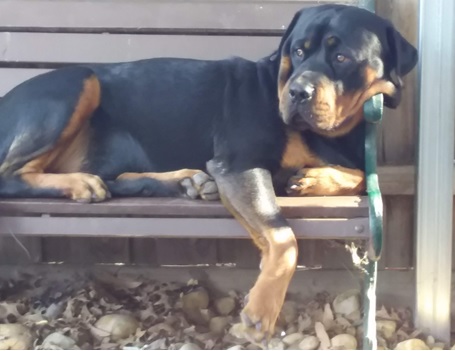 Hank
Robyn found her Bow Wow experience stress free and the benefit payment was processed quickly..
At 36 weeks pregnant I got the dreaded phone call off my husband that my fur baby Tank, was paralysed and he was rushing him to an emergency vet!! I could barley move myself at this stage but I was in the car faster then you could say go! After a long agonising day of tests and waiting around, we never once hesitated to admit Tank for a CT scan and emergency spinal cord surgery! $6500 later and we had our boy back the next day! March 2020 Without pet insurance this financial surprise could have made a huge dent in our savings for our new family beginning, instead it was the easiest transaction to process! There was no trouble submitting a claim at all!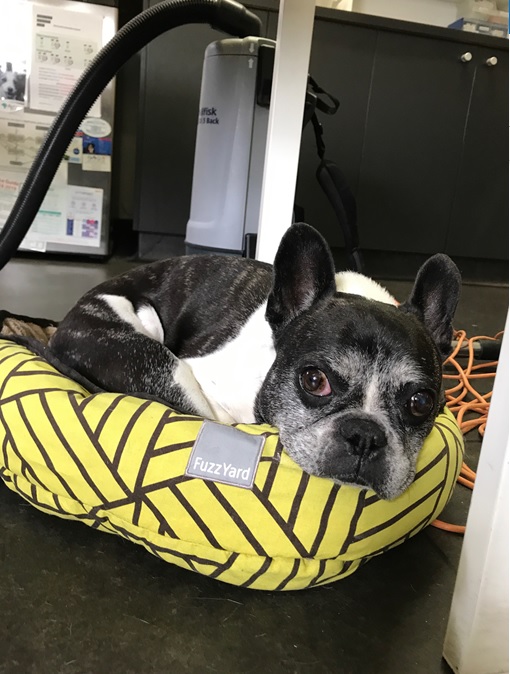 Tank
Renee's Frenchie, Tank became paralysed and was rushed to an emergency vet clinic. Tank was treated and Bow Wow covered most of the $6,500 vet bill for spinal cord surgery. Renee found the claim process very easy.
This is our 8yo boy Monty. He ruptured his acl last year and your support and professionalism made claiming so easy. Thank you February 2019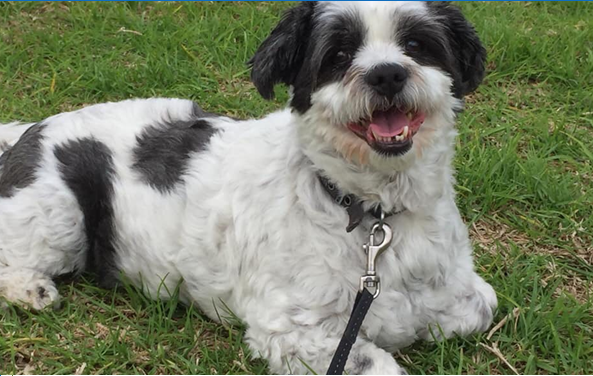 Monty
Wendy's dog Monty ruptured his ACL and appreciated the Bow Wow support with his treatments.
When my dog Duke had an ugly growth on his hind leg, it was very scary for the whole family. He is everyone's best friend. With the peace of mind of having Bow Wow Meow pet insurance, I was able to get him straight to the vet where he was operated on and the growth removed. Thankfully, it turned out to be harmless and Duke came through it fine except for missing his breakfast on the day of the surgery. April 2020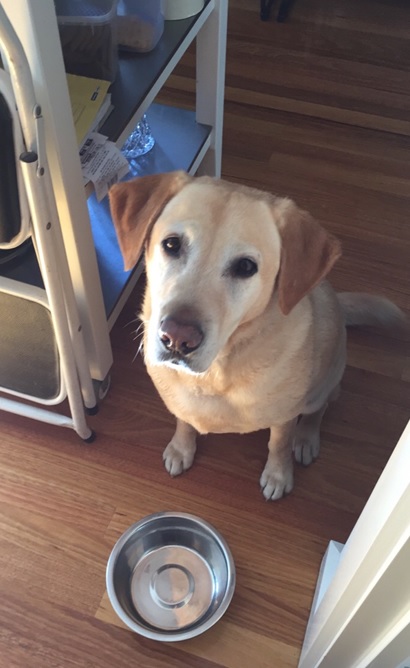 Duke
Heidi's dog Luke had a growth removed and thankfully was fine. He was not happy about missing breakfast on the day surgery took place though :-)
Our beautiful Australian Shepherd, Rain, brings adventure and of course plenty of happiness to our lives daily. She has such an amazing character and is extremely smart! As everyone knows when your best friend is sick the entire family is concerned as this is what happened quite recently to Rain. Fortunately the concern of all medical outlay was eased knowing that Bow Wow Meow handled everything for us without delay. So our full attention could be on Rain's recovery and getting on with our busy family lifestyle! She is now back to normal fun and games playing with her Aussie Ball, shuffling it around like a soccer ball and causing all sorts of chaos – there is never a dull moment with her and we wouldn't have it any other way – she brings us so much love. July 2020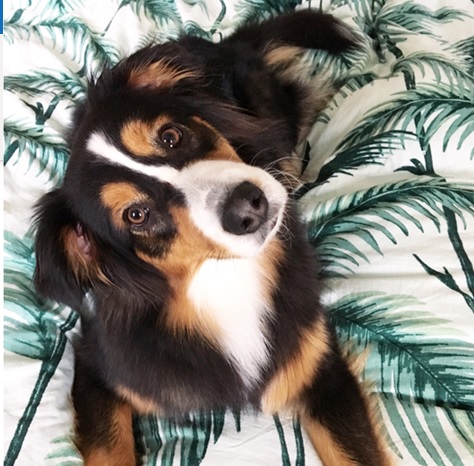 Rain
When Andrew's dog Rain fell ill, they were able to focus on getting Rain better without the financial worry of vet expenses. Thankfully, Rain has fully recovered and back to her old tricks once again.
My yellow Labrador Quentin had a trip to the emergency department after finding our hidden stash of Easter Eggs! Thankfully I didn't stress at all because I knew whatever the costs I could afford it. My beautiful but naughty boys are my world. November 2019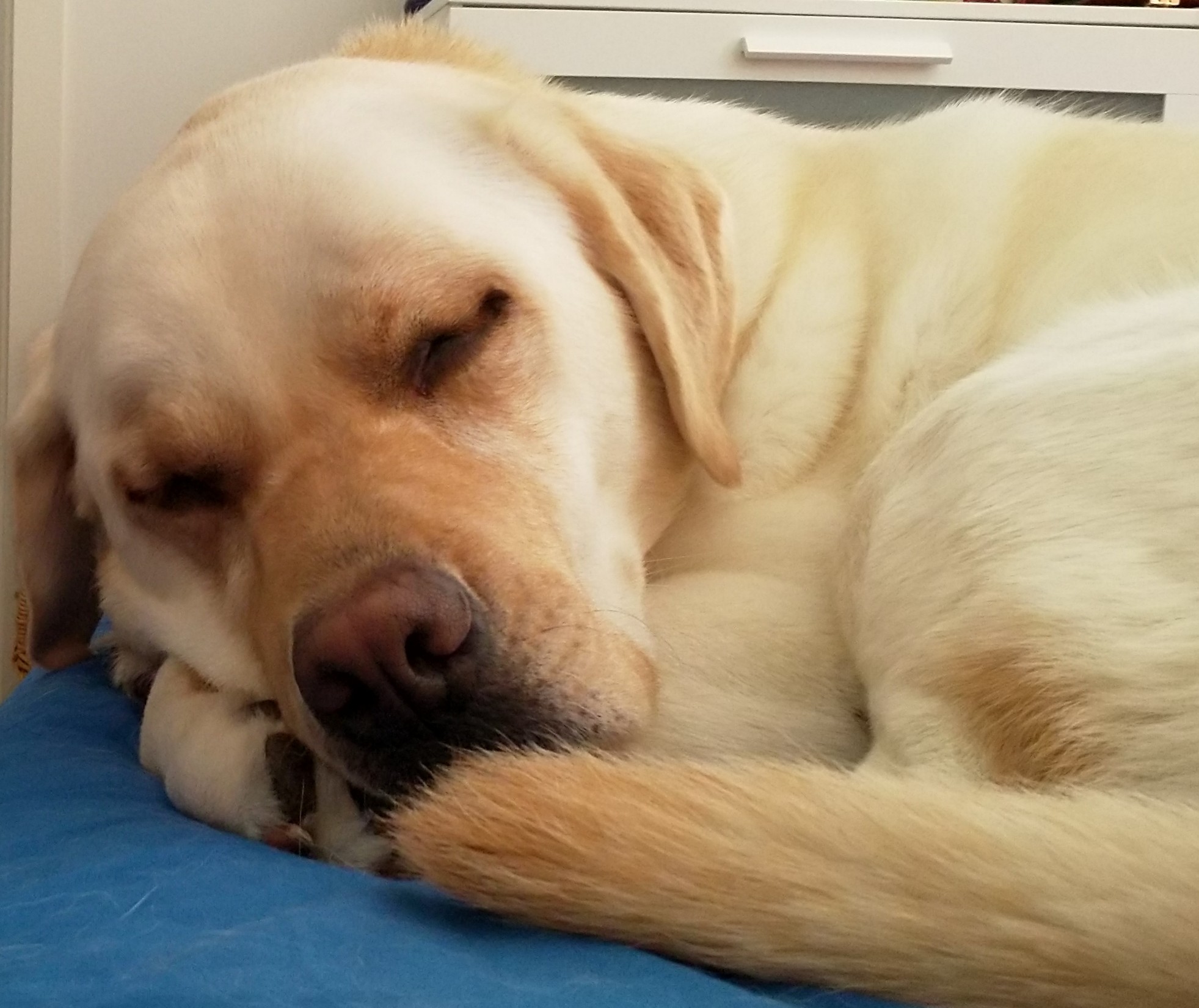 Quentin
When Catherine's dog, Quentin, found some Easter Eggs, he landed up in the Emergency Clinic. Thanks to Bow Wow Meow Pet Insurance, Catherine did not stress about the cost.
My son who is now 11 lost his first dog to complications due to a severely broken leg. He was majorly anxious about getting another dog, to the point of not wanting him, because he was scared something may happen to him like his first dog. He would rather not go through that ever again!! I told him what if we got insurance for the dog just in case something happens?….it was the only thing that calmed him down and made him feel safe enough to have another dog 😊 So after convincing him the dog is as safe as he possibly can be we got Bentley, who he LOVES. (He still checks on him every minute though, and twice before bed!) April 2019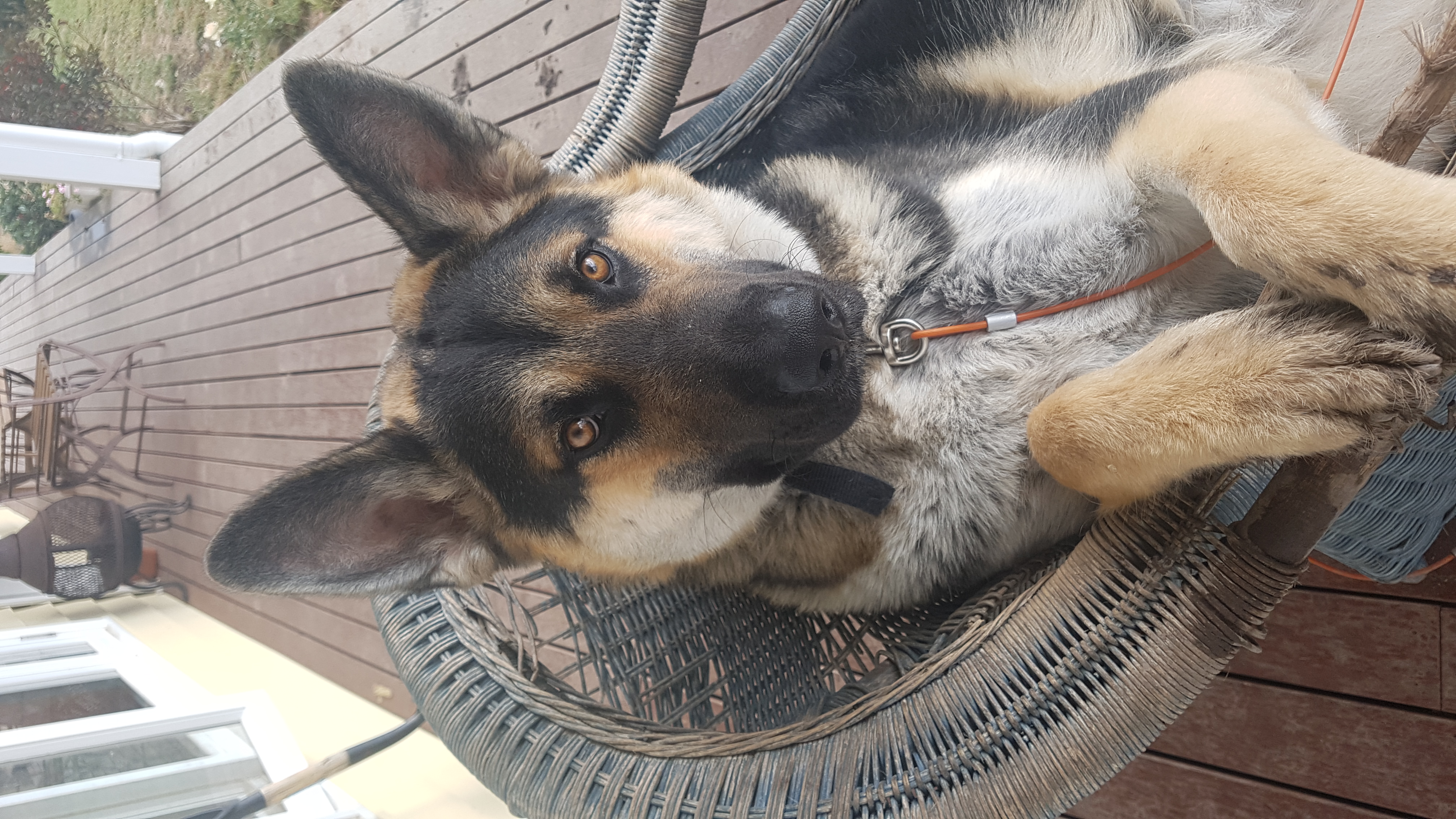 Bentley
Following the loss of their previous dog, Angela describes the peace of mind Bow Wow Meow Pet Insurance has brought their son and the rest of their family.
Bow Wow Meow were a huge help when our friends had to rush Monty hospital after he discovered a unique talent for unwrapping and gobbling up chocolate coins one Christmas. Thankfully it all turned out OK for this little guy with a chocolate obsession. January 2019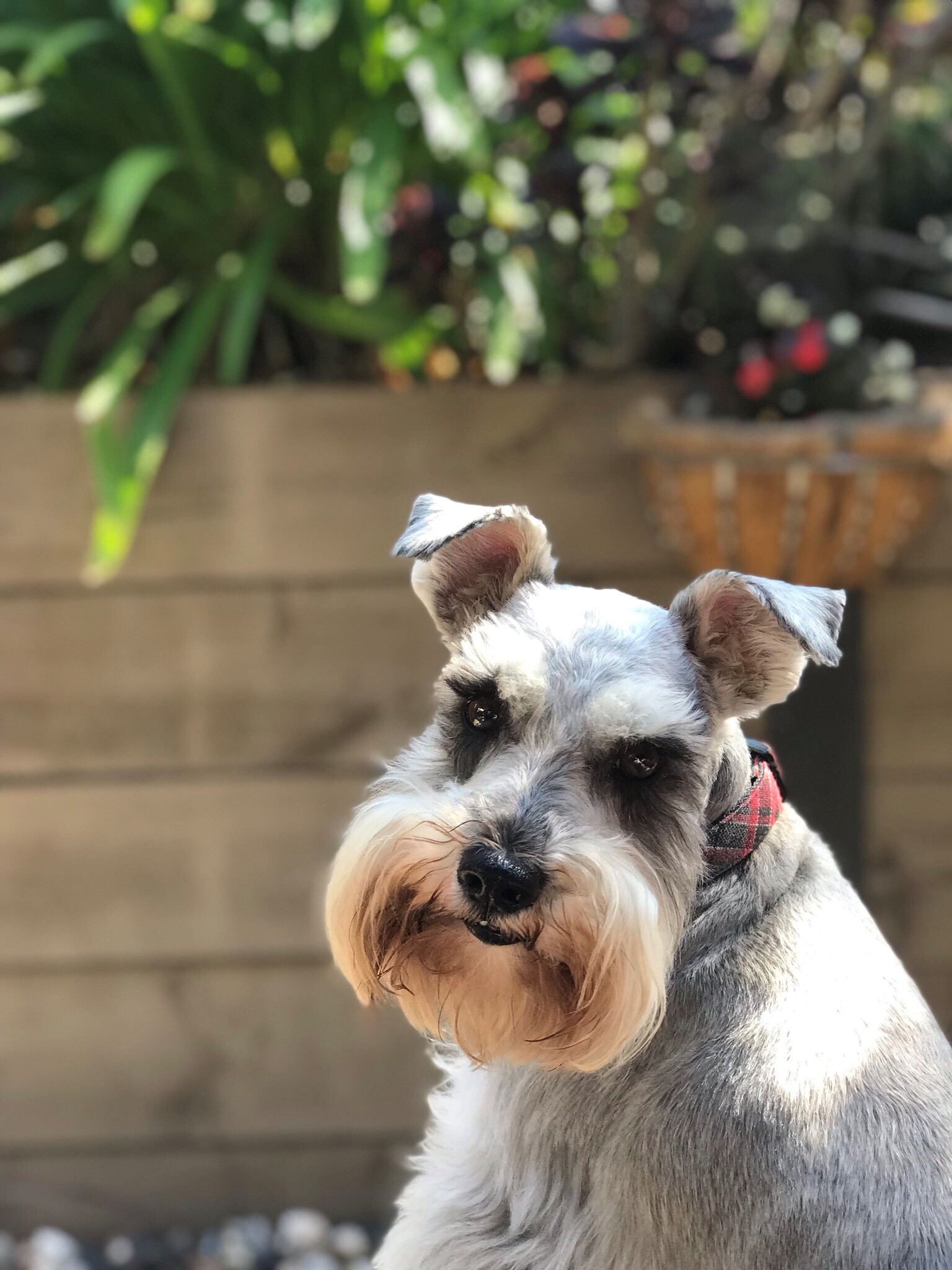 Monty
Bow Wow Meow helped Kris's dog, Monty, with vet bills relating to him eating chocolate coins on Christmas.
Wolfgang has had a few minor ailments and Bow Wow have been very swift in giving refunds. It takes the worry out of expenses you get from dog ownership. Very grateful. March 2020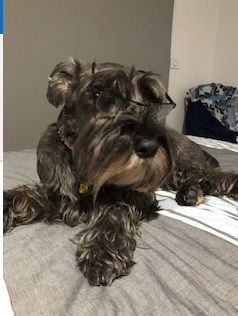 Wolfgang
Lidy's dog Wolfgang had minor ailments. Liddy was happy with the quick claim process.