Why choose Bow Wow Meow?
Pet insurance is a way to protect both you and your pet from unexpected vet bills. The peace of mind that comes with not having to weigh up the cost of vet treatment is priceless.
Bow Wow Meow offers a range of flexible, competitive policy options to suit a range of needs and budget, and is underwritten by Australia's leading pet health insurer.
Up to 80% reimbursement on eligible vet bills
Bow Wow Meow has designed a range of new plans to offer our customers flexibility and a choice of benefit rate (percentage of vet bills covered):9
The Indoor Cat Plan for those who want to cover their cat for specified accidents and illnesses, with an 80% benefit rate and $5,000 annual benefit limit;
The Accident Plus plan for those who want cover for accidental injury only, with an 80% benefit rate and $10,000 annual benefit limit;
The Peace of Mind plan, which offers you a choice of a 60%, 70% or 80% benefit rate and $15,000 annual benefit limit;
The Ultimate Care plan, which offers a comprehensive policy including dental, with an 80% benefit rate and $20,000 annual benefit limit.
No excess means even smaller vet bills are covered
We have listened to our customers, and know you prefer to get money back for each eligible vet bill. We have therefore removed the per-condition excess from our new range of policies. This translates into more reimbursements for our customers for even the smallest vet bills.
Superior service with our streamlined claims process & pet portal
Streamlined claims process
If we require further information after you submit a claim, we correspond directly with your vet to make claiming quicker and easier for you and collect any invoices, vet notes or documents that are needed (historically the responsibility of the policy holder). This means no more chasing up your vet for consultation notes or vet history…from now on, we do it for you!
We know this will make a huge difference to our customers, allowing you to spend more time with your pet and less time on claiming.
Pet portal
We have also recently introduced our new Pet Portal, which allows you to submit claims quickly and easily online.
The portal includes a range of features to help you manage your policy 24×7 and is one of the many benefits of being a customer:
Submit claims in 3 quick steps from any device
Access to full details of your cover and policy documents

Access to claims correspondence and status updates

Update payment and policy details

Help centre to provide key information you may need.
Life-long cover
Once your pet is insured, we will cover all chronic conditions for the life of your pet up to the annual benefit limit each year*, provided you renew your policy each year without any break, lapse or change in the level of cover. Certain conditions such as diabetes and arthritis may require costly treatment for the rest of your pet's life. That is why we provide life-long cover.
You can start your pet's cover any time from 8 weeks of age and before its 9th birthday on our Peace of Mind plan, Indoor Cat plan  and Ultimate Care plan. There is no upper age limit for our Accident Plus plan, so any pet can join, no matter how old.
*As long as the condition was not pre-existing (any conditions prior to first taking pet insurance cover or occurring within the waiting period). Annual benefit limits are renewed in full on renewal of your policy.
Pre-existing conditions review
You can apply to have any pre-existing condition exclusions reviewed after 18 months of continuous cover, provided your vet has verified that your pet has been free of any clinical signs or recurrence of the pre-existing condition.
Gap only cover
We have listened to our customers and know that many of you would prefer to pay only the gap between the vet bill and any eligible pet insurance rebate. That is why we have committed to be one of the first pet insurers to roll out Gap Only cover. This is currently offered by a number participating vets and allows policy holders to claim on the spot, so that only the gap is payable. We hope to roll this out to all vets in the near future.
Our plans also provide you with a range of additional benefits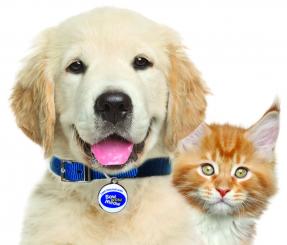 A free pet ID tag when you sign up and each policy year if you change your contact details or your pet's tag is lost (sent to you after the 21 day cooling off period has ended). Limit of one (1) Pet ID Tag per policy year;
A pet health card to store information related to your pet insurance policy;
Tick Paralysis benefit that ranges between $1,200 and $3,000 per year
(depending on your policy);
New Hip Joint Surgery cover up to $7,600 per hip;
Emergency boarding fees if you are hospitalised10;
Overseas pet travel insurance10; and
we have a range of flexible plans, so it's easy to choose the right plan for your needs.
We have been named ProductReview's 2019 Pet Insurer of the Year!
The Bow Wow Meow team is made up of real Aussie pet people – we are not some big faceless insurance company. We care about the service we give and helping you when times are tough. Pet owners recognise this and have consistently rated us the number one pet insurer in Australia on independent consumer ratings site productreview.com.au over the last few years.
This has culminated in us being chosen as ProductReview's Pet Insurer of the Year for 2017 and again for 2018/2019, something of which we are very proud.
What is most gratifying for us is that these awards are given based on real reviews from our customers. We are so proud to be able to help so many Aussie pet owners and their fur babies stay happy & healthy.
Most of all, we give you peace of mind
We know how precious your pets are to you. Undoubtedly the biggest benefit of taking out pet insurance with us is that it will provide you with the security that you will never have to choose between money and the life of your pet!
Depending on the level of cover you select, we help you save7:
on your eligible vet bills
if your pet requires surgery
if your pet needs an extended stay in hospital or emergency boarding
on preventative treatments (eg. fleas, ticks, heartworm)
on a range of treatment options that may otherwise have been considered unaffordable.
Vet bills can add up quickly. This table shows examples of actual claims we have paid out to policy holders between the period 1 August 2017 and 31 August 2018.
| TREATMENT FOR: | WE PAID: |
| --- | --- |
| Perforated Bowel | $11,713 |
| Multiple Fractures | $7,391 |
| Spinal Pain | $6,850 |
| Ingestion of Foreign Object | $6,349 |
| Bite Wound | $5,041 |
| Ear Infection | $3,108 |