Ultimate Care plan
Top pet insurance cover for accidental injury and illnesses
Our popular premium plan for pet parents who want the best cover
$20,000 annual benefit limit
80% benefit percentage (percent of eligible vet bill covered)
Includes dental illness cover ($1,000 total annual limit)
Option to add alternative therapy cover ($1,000 total annual limit)
$3,000 tick paralysis annual sub-limit
Zero excess, which means even smaller vet bills are covered
No waiting period for accidents or injuries
Option to add on Routine Care cover
Awarded 5 stars by Canstar across multiple categories in their 2019 Pet Insurance Star Ratings.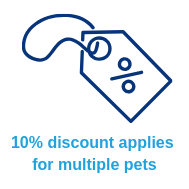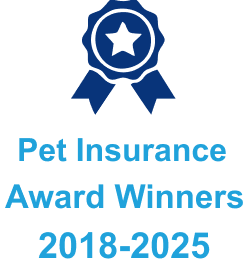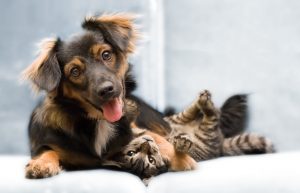 What's covered
The Ultimate Care plan provides our highest level accidental injury and illness pet insurance cover, including a dental illness benefit. It has an annual benefit limit of $20,000. You can receive up to 80% back for eligible vet expenses (subject to benefit limits and exclusions).
You can take out the Ultimate Care plan if your pet is between the ages of 8 weeks and 9 years of age.
The following conditions are covered from initial policy commencement (no waiting period):
Motor vehicle incidents
Burns or electrocution
Allergic reactions to an insect or spider bite (excluding flea bites)
Bone fractures
Snake bite toxicity
Traumatic ligament or tendon injury other than cruciate ligament condition
Bite wound or fight wound abscesses
Lacerations or abrasion of tissue, skin or mucous membrane due to external violence
Covered after 30 day waiting period:
Examples of illnesses we generally cover:
Cancer treatments
Skin conditions
Eye/ear conditions
Poisoning
Ingestion of a foreign object
Intervertebral disc disease (IVDD)
Gastrointestinal problems
Hereditary and congenital conditions
Tick Paralysis – $3,000 annual Sub-limit
Covered after 6 month waiting period: 
Cruciate ligament conditions
(Note that the 6 month waiting period for cruciate ligament conditions can be waived on application. To  this, we need to receive a completed and signed Cruciate Ligament Exam Form from your vet within 14 days of the cruciate examination date certifying that your pet has been examined, at your expense, on or after the policy commencement date.  We will notify you of the outcome in writing. Refer to the Product Disclosure Statement for further terms and conditions.)
Dental illness treatment, including cover for:

Gingivitis
Abscesses
Removal of teeth where medically necessary due to:
Dental disease arising from infection:

Retained deciduous teeth
Cavities
Tooth fracture
(Note that we will only cover dental illness treatment if your pet has been insured under this policy for at least six (6) months and in this period your pet has not shown signs of or been treated for any dental illness and there is a history of annual routine dental check-ups by a vet. Full details  on page 25 of our Product Disclosure Statement).
Additional benefits and limits:
Consultation fees  –  $300 annual sub-limit
Emergency Boarding  –  $1,000 annual sub-limit10
Hip Joint Surgery  –  $7,600 per hip annual sub-limit
Cruciate ligament conditions – $2,600 annual sub-limit (you may be eligible for a higher limit, and if so this will be printed on your Certificate of Insurance)
Overseas pet travel (only applies to travel in New Zealand or Norfolk Island, subject to your benefit percentage and limits. Exclusions apply – refer to the Product Disclosure Statement).
Optional cover: Alternative & complementary medicine
Under the Ultimate Care plan, you have the option to add on alternative therapy cover, with a benefit of up to a total of $1,000 of per policy period.
If you select to add on this cover, we will pay the benefit percentage (up to the benefit limit) for expenses related to Alternative and Complementary medicine when referred and endorsed by your Vet.
This includes advice, tests, and legally prescribed medicine for the items outlined below:
Physiotherapy or physical therapy  –  $400 sub-limit
Chiropractic Manipulation  –  $400 sub-limit
Acupuncture  –  $400 sub-limit
Hydrotherapy  –  $400 sub-limit
For more details, please refer to page 24 of the Product Disclosure Statement.