29.10.18
5 Tips To Avoid Separation Anxiety In Dogs
Separation anxiety is a serious issue for many dogs, especially the ones that are used to getting a lot of play and attention.

Loneliness can hit anyone at any time, even our pets. Dogs are especially prone to separation anxiety because of their pack mentality. They look up to us (their owners) as their pack leaders and, when we're away from them, they'll often feel cut-off, out of the loop, or entirely at sea.
While some breeds like gun dogs and other hunting types are prone to feeling lonely when you're out of the house, there are things you can do to help avoid your dog feeling separation anxiety.
My dog can't be lonely, I walk them most days.
Not sure if your dog is lonely at home? Classic signs of separation anxiety include digging holes in the backyard, pulling up plants in the garden, chewing your work on your shoes or furniture and, in some cases, trying to escape.
We've put together a list of things you can do at home with your dog to help them avoid separation anxiety. Are you doing all you can to keep them happy?

Exercise, exercise and more exercise.
Have you taken your dog for a run lately? A lot of separation anxiety can simply come down to your dog not feeling as though they've released enough of their energy.
Young dogs especially need a lot of exercise in order to stay happy and healthy. If you've been for a nice brisk walk lately or a jog, you'll know that refreshing feeling you get after doing a bit of exercise. Dogs need to be walked at least once a day, even twice if you've got the time (or get the kids to do it for you). What's more is that once they've used up all of their energy, they'll most likely be happy to have a nap for a bit, maybe even for hours.
Try to get into the habit of taking your dog for a good walk before you plan on leaving them alone at home. A tired dog is a calm dog—all they want is to walk, run and spend a few special moments with you, their owner.

The silent treatment doesn't hurt once in a while.
Although it may be difficult, try to get into the habit of not making a big deal about coming home to your dog.
We know it's probably been all day at the office and the best thing is walking through the door and being met by a bounding pup, but try to show some restraint. This will teach them that you being at home isn't the only good thing in their day.
Playing with them before you leave, or going for a nice long walk is the best way to make your coming absence a fun time. Ignore them once in a while and refrain from letting them jump on you or plant slobbery kisses all over your face.
Your arrival home shouldn't be remembered as a time when 'it's okay to break the rules'.

Occupy your pup—keep them nice and busy.
Make sure your dog has plenty to keep them occupied while you're out of the house. The alternative is that they'll dig up the yard, or even try to escape altogether.
We have scratching posts and cubby houses for cats, but what are the best toys for dogs that need to occupy themselves? Interactive toys are your choice. These can either make noises when they're chewed, or even better—release food!
Food-releasing toys drop bits of dry food the more they're played with. This means that the more your dog plays, the more they'll be rewarded.
The best part about these types of toys is that there's no real chance of overfeeding your dog this way as the more they play and eat, the more exercise they're doing in the first place.

People are noisy, it's part of the charm.
Dogs simply love human company—they often see things in us that we don't see in ourselves and it's natural for them to miss us when we're out of the house.
If you're ducking out for a few hours, it's a good idea to leave the TV or the radio on so that they can hear human voices throughout the house. This can often have the effect of calming your dog while you're away, making them think that there are people at home and all is well.
An added bonus is that if burglars are scouting for properties to rob, hearing the radio or television can act as a great deterrent.

Two is always better than one.
Two is company and three's a crowd, except for when there are lonely little pups involved. Dogs are very social creatures and need to spend time with their pack leaders, their owners. But, if you know you won't have the time your dog needs from you, it might be a good idea to think about getting them a friend.
Another pet for company can help your dog overcome separation anxiety, but it's important to make the right choice. Don't get a dog that is prone to be aggressive to other dogs.
Also, if you're going to get your lonely little pup a friend, do it early. Socialising your dog while their young is the best way to ensure they get along.
In the worst case scenario, your dog's companion may feed from your dog's existing separation anxiety, leaving you with two anxious and lonely dogs. If unsure of your specific situation, always talk to your vet for advice.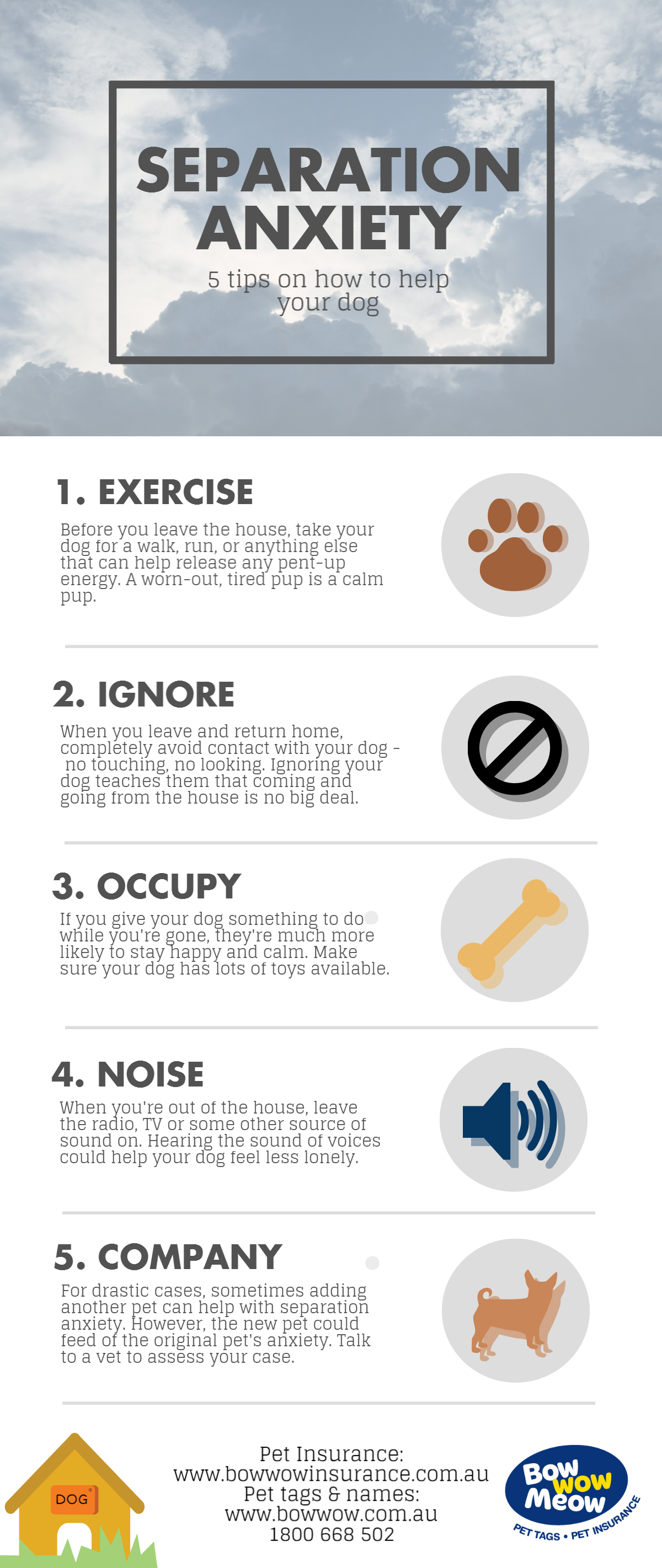 Please note, any pet insurance advice provided is general only. Refer to the applicable Product Disclosure Statement for details of Bow Wow Meow Pet Insurance cover.