01.09.21
GPS Dog Trackers: what are they and where can I get one?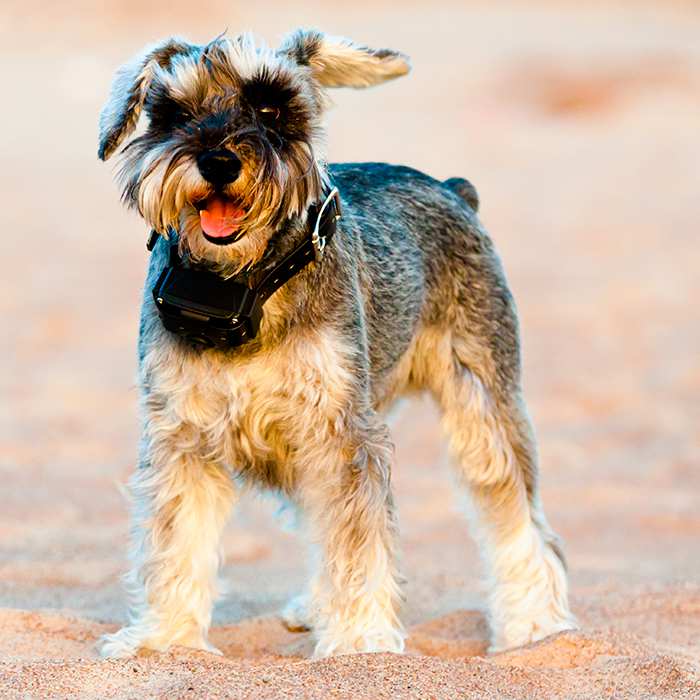 We humans are no strangers to wearable tech – chances are, you or someone you know has some sort of fitness tracker or smart watch. But did you know that there is also an array of wearable gadgets for pets? These devices are not just for fun and frivolous purposes – the best ones can actually help you keep your dog fit and healthy, and even find your dog if it wanders off or gets lost.
But how do you know which devices live up to the hype, never mind which actually work here in Australia? Many of the GPS tracking devices that pop up on a local Google search are designed for the USA and will only connect to US cellular networks. If you live elsewhere in the world, these devices will not function properly (if at all) and will therefore be a waste of good money for Australians. In this article, you can find our select list of the best of the dog wearable tech and tracking devices for Australian pets and their owners.
GPS Trackers
GPS trackers, or devices that are attached to your dog in order to track its movements, are becoming more and more popular, particularly among owners of adventurous pets.
In the past, if your dog or cat got lost, you'd have to spend hours searching the neighbourhood, plastering posters on every telegraph pole and hoping for the best. Nowadays, microchips are commonplace – and most states require all cats and dogs to be microchipped by law – but if your pet gets lost, a microchip can't track where they've gone.
That's where GPS trackers come in. Most trackers come with an app that you can use to track your pet's movements, so you'll never have to wonder where your dog or cat has wandered off to again.
Some words of advice –
Many of the trackers we've come across use apps for Android or iOS devices to access and analyse the data they collect.  If you're not a smartphone user, these will not be suitable.
The range of a tracker can vary significantly, depending on the model and the technology used, so look for one that best suites your own purposes. Some devices use radio signals to track instead of GPS. These have a much shorter range than GPS trackers, so are best suited to tracking in a small, local area.
Be aware that there are typically monthly or annual fees associated with GPS tracking.
Be careful when selecting the correct size for the device, particularly if you own a smaller dog, as you don't want anything too bulky or heavy affixed to their collar.
Buy the best quality you can afford, and avoid anything that seems like too much of a bargain… you need certainty that the tracker will actually do what it claims to do. Look for customer reviews that appear to be genuine and contact the manufacturer or supplier if you have any questions or concerns.
AU $99.99 plus a subscription plan: Basic (AU$14.99 / month) or Premium (AU$114.99 per year)
The Tractive GPS Dog 4 tracker works in over 150 countries, Australia included. It's got its own SIM card and can connect to networks worldwide, using the best available mobile / cellular network to send its GPS location to your smart phone. The range of the tracker is unlimited; in fact, you can even track your pet if you're on the other side of the world. The data provided by the tracker is accessible via the free Tractive GPS for Dogs and Cats app (iOS) and the Tractive GPS for Dogs and Cats app (Android).
This device serves two very valuable purposes: to prevent your dog from getting lost with location tracking, and to keep it fit and healthy with activity tracking. Weighing in at 35g, it's designed to fit most dog collar sizes, is recommended for dogs above 4 kg and can also work for larger cats. Tractive is not currently shipping to Australia (as at 31 August 2021), so you can't purchase directly from their website. You can, however, order the Tractive GPS Dog 4 via the Pettecc website.
Additional features:
Monitor activity and set activity goals to ensure your pet is getting enough movement to stay fit and healthy.
Set safe areas (e.g. your garden) with virtual fences, and get a notification if your pet enters or exits them.
See your pet's location history (where he or she has been in the last 24 hours).
Use the live tracking option to get location updates every 2 to 3 seconds.
Long-lasting battery that goes for up to 5 days.
Waterproof and shock resistant.
Securely fits dog collars and harnesses up to 2.8cm wide.
AU $279 (including collar attachment)
The SEEK from NutTAG Australia is a tiny, real-time GPS tracker that weighs 40g and fits into a rubber collar attachment that can attach to any dog collar. It locates your pet using multiple positioning technologies with an accuracy of 2-5 m, and there are no range limitations. The data is accessed via the NutTAG GPS App (iOS) or NutTAG GPS App (Android) and/or the web portal after purchase. The app gives you full control of the device from your phone.
Your initial purchase includes 1-year access to the online portal, mobile app and an active Telstra or Vodafone preinstalled SIM. Once the first year is complete, you will need to select a plan for each device. Plans start from $45 a year, and lifetime offers are also available. Note that the device is not designed to be submerged in water, although hosing your pet will be fine.
Additional features:
Ready for use straight out of the box.
Unlimited range (international SIM available).
Create geo-fences and receive alerts if your pet breaches or enters your safety or danger zones.
No monthly costs.
Option for alerts to be sent via SMS at an extra cost.
Charging dock and USB charging cable included.
Battery life is 28 days on locate mode or 2-15 days on regular use.
Custom low battery alerts.
1-year warranty.
Free delivery and returns within Australia.
Made in Melbourne; local support available.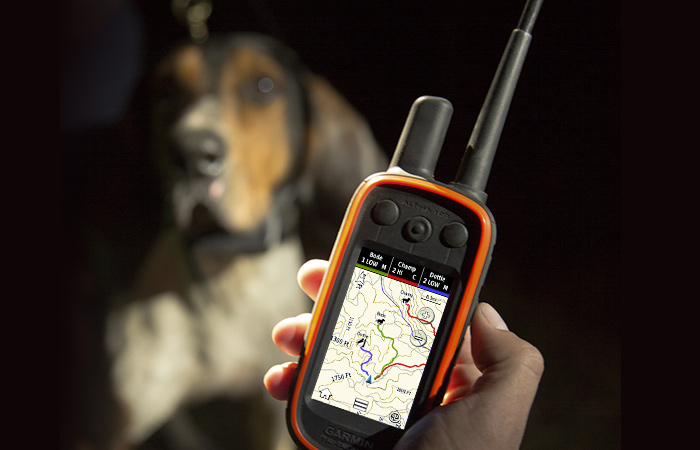 AU $1,099.00 (includes handheld and T5 dog device)
Garmin is well-known for its GPS and activity tracking devices for people. But did you know that it also has a broad range of dog devices? These are designed largely for tracking and training, although some are geared particularly to hunting dogs, while others can help with obedience and nuisance barking. These devices are definitely an option for those serious about their dog sports and/or their bushwalking and those with multiple dogs.
Be aware that these devices do not work with your smart phone as do most other brands – you will need to purchase a handheld device as well as a special collar, which can make for a relatively expensive outlay. These items can be purchased as a bundle or separately, so additional dogs and/or owners can utilise the same platform.
A popular model for sporting dogs, the Garmin Alpha 100 and T5 dog device bundle is a multi-dog tracking GPS and remote training system all-in-one, allowing you to track up to 20 dogs from up to 7 km away. It measures each dog's speed, distance and direction and will deliver their exact position as often as every 2.5 seconds. Preloaded with TOPO Lite Australia and New Zealand, you'll always know your surroundings no matter how far off the beaten track, as it does not rely on being near a cellphone tower.
Additional features:
Collar available in two sizes, regular and mini (minimum neck size for a mini collar is 9″ (23 cm), minimum neck size for a regular collar is 12″ (30 cm).
Battery conservation mode automatically kicks in at 25% battery life, giving you more time to search for and locate your dog.
Free trip-planning software available that lets you view and organise maps, waypoints, routes and tracks on your computer screen, with topographic map data in 2-D or 3-D.
Software available for a laptop to be used as field control centre for tracking multiple dogs and buddies (up to 20 Alpha units or T5 devices), even where internet and cell phone service isn't available.
See more Garmin GPS dog collars and handheld devices here.
Activity trackers
GPS trackers aren't the only wearable tech available to your pet. Bark correction collars and activity and fitness trackers are some other wearable options for your furry friend. A bit like a Fitbit for dogs, activity tracking devices can help to keep your dogs healthy and in good shape by monitoring the amount of exercise and rest they are getting each day, and even let you know how many calories they are burning.
The Tractive GPS Dog 4, discussed in the GPS section above, is a dual-purpose GPS and activity tracker, allowing you to make sure your dog always gets enough exercise. You can set daily goals that suit your dog's breed and size, and get rewarded with badges when you reach them. If you are competitive, you can even go onto the monthly leader-boards and compare your dog's activity with others of the same breed around the world.
US $80 (approx. AUD $110)
FitBark 2 is wearable activity tracking device for dogs that is available worldwide, and while it doesn't offer GPS coverage, it can be used to monitor your dog's activity, sleep and well-being. It can help owners understand their dog's health, explain behavioural changes and offer more information to their vet if necessary. Data is provided via the FitBark Dog GPS & Health App (iOS) or  FitBark Dog GPS &Health app (Android).
Be warned – do not purchase the FitBark GPS  – this model is designed solely for the US market and cannot be used to track your pet's movements with GPS in Australia.
Additional features:
It can be linked to your Fitbit, Apple watch or Google Fit device.
12 cover colour options available (comes with a black cover, additional covers sold separately).
Available in sizes from XXX-S to XXX-L, fits on collars greater than 38mm.
Battery life up to 6 months.
Light, rugged and waterproof.
30-day money-back guarantee.
No monthly or hidden fees.
Orders ship from Melbourne (free shipping for orders over US$20).
Does my pet need a wearable device?
Of course, if your pet is a notorious wanderer, getting a GPS pet tracker makes sense. It could save you the heartbreak of searching fruitlessly for a missing pet and might even allow you to save your pet's life. Be aware, however, that even the best device can let you down when you most need it. If your pet goes missing when the device's battery is low on charge, or location services is chewing through the battery power at a rapid rate, you will need to find your pet pronto, before it powers off completely.
If you are mainly after the activity and exercise tracking features, you don't necessarily need a wearable device for your pet. As long as you are tracking your own activity with a watch or smart phone, you can use a smart phone app to get the same information for your dog. Rundogo is a dog sports tracker that syncs with your own Garmin device, allowing you to track your dogs as well as yourself, whether you are running, walking or participating in one of the many dog sports together. To remove ads and get additional features from Rundogo, you can buy the Premium version for a monthly or annual fee.
Can I use an object-tracking device for my pet?
It may seem like an option worth considering, but object-tracking devices are just not designed for pets. They are generally flimsier, not water- and dirt-proof, and not designed to be affixed to a collar, so they could easily fall off. In contrast, a good pet-specific device should be rugged, durable, water-resistant and dirt-proof, and should attach securely to your pet's collar or come with its own collar. So even though it may be a cheaper option in the short term, an object tracker is probably not going to last nearly as long.
Can I use a tracking device on my cat?
Yes you can, but check that the manufacturer states that the device is suitable for cats, and make sure that it is small and light enough for your cat's comfort. Cats are notorious for wriggling out of collars and losing their tags, so it's essential to get one that is designed with cats in mind.
If you are looking to monitor your cat's activity, be aware than this may not be as accurate for cats as it is for dogs. Felines move differently from canines, and some devices may not be able to distinguish a cat's movements with sufficient accuracy for meaningful data.
*Prices accurate as at 31st August 2021 and do not include data costs.