22.08.19
26 August is National Dog Day!
National Dog Day was founded by the famous animal advocate Colleen Paige 15 years ago.
On this day we take a moment to appreciate our beloved dogs who give so much to us, and the wonderful impact they have on our daily lives. We think about those dogs that haven't yet found a loving home, and ways that we can promote pet rescue and responsible dog ownership, to ensure that all dogs in our society are protected and cared for.
On this day we honour all dogs – our pet dogs, who are members of our families; the search & rescue dogs and bomb-sniffing dogs who help save lives every day; the assistance and guide dogs who help impaired and disabled people to live more functional lives, the livestock working dogs that tirelessly help our help our farmers … just to mention a few.
To celebrate National Dog Day, we want to share with you these amazing stories about some everyday dog heroes:
Lucky – helping an Aussie digger to find his way back into life
Josh joined the Australian Army at the age of 21 and went to Afghanistan twice. His time there was rewarding but challenging and he saw things that he wished he'd never seen. Diagnosed with PTSD, the Young Diggers program provided him with Lucky, a rescue dog who was trained to be a mental health assistance dog.
Lucky is by his side 24/7 and gives Josh the confidence to take on the challenges of everyday life.
Watch the full story here.
Herbie and Sarbi – in active military service
In 2018, the Australian Defence Force recognised the 7th of June as National Military Working Dog Day for the first time. This day corresponds with the death of Sapper Darren Smith, 26, and his bomb detection dog Herbie, who died together in Afghanistan in 2010.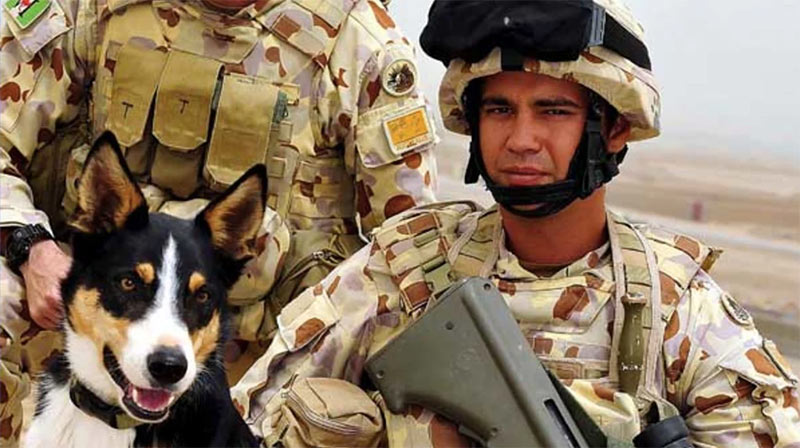 Military Working Dogs are commonly found in roles either as Explosive Detection Dogs (EDD), security and patrol dogs to keep military personal and assets safe, or they are used for tracking of adversary movements in areas of operations.
One of the most famous stories of an Australian Military Working dog is that of Sarbi the Labrador Cross, who was deployed to Afghanistan with her handler, David Simpson. Sarbi went missing during an attack on a convoy of Australian and Afghan soldiers in Oruzgan in September 2008. Fourteen months later a US soldier saw a dog that looked like Sarbi with a local Afghani. He tried some English commands the military uses and Sarbi responded.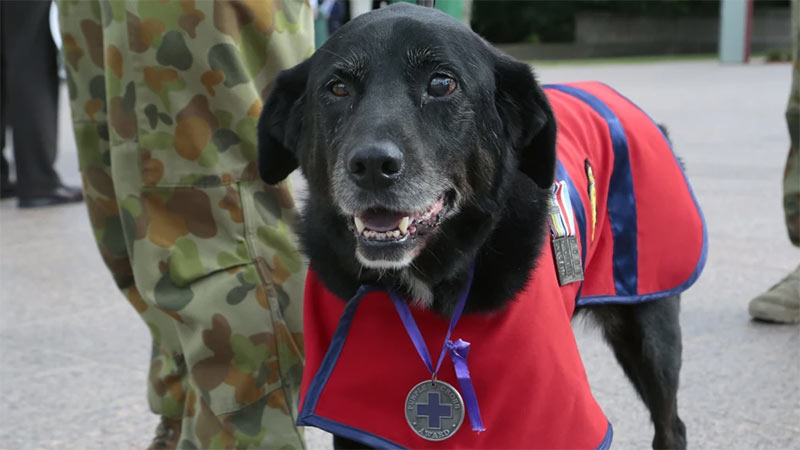 Soon after Sarbi was reunited with her handler in Australia. Sarbi was awarded the RSPCA Purple Cross in 2011, making it the second animal to win this medal for war service.
Sarbi died in 2015 from a brain tumour.
Read more about Sarbi here.
Police dog Kane – hunting the bad guys, serving the good!
The NSW Police Force Dog Unit is the country's largest dog squad.  With about a hundred dogs, the squad is mainly made up of German Shepherd Dogs, Belgian Malinois English Springer Spaniels and Labradors. These dogs help out the police force with a variety of duties, such as detection of drugs and explosives, search and rescue of missing persons, cadaver detection or general purpose dogs which support the police with high risk confrontations and crowd control.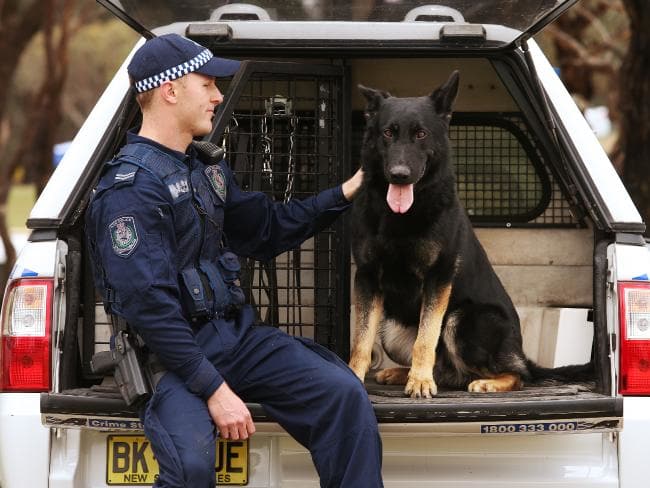 In 2018 police dog Kane successfully tracked a pair of alleged burglars through bushland and waterways for more than 3km. After the epic hour-long but successful hunt, following their scent across a variety of terrains and tracking them through waterways, scrub, bushland and along train tracks, the German Shepherd Kane collapsed because of exhaustion. He was brought to a veterinary hospital immediately and recovered well within a few days.
Read more about Kane's story here.
Stock dogs like Boof are a farmer's best friend
Stock dogs are one of the backbones of Australia's farming industry. There is an estimated number of 273,000 working dogs in Australia. The majority is working on sheep and cattle farms. On Australian farms you will often see Kelpies, Cattle Dogs (Blue Heeler) and various types of Collies. The financial impact of stock dogs is significant. Researchers found the return on investment of a working herding dog is around 5 fold.
During the annual Cobber Challenge twelve competitor dogs are given a GPS collar that tracks their distance, working duration and speed over a three-week period.
The 2018 challenges was won by Boof, a 6 year old kelpie from a mixed farm in  south-west Victoria and who then was crowned Australia's hardest working dog. In 3 weeks, Boof ran over 630km at 10.62km/h. And there were days where he covered a distance of up to 70km, that surprised even his owner Henry Lawrence.
Learn more about Boof and the Cobber Challenge here.
Mia – the canine blood donor!
Just as humans are sometimes in need of blood donations for lifesaving treatments, so too do animals rely on blood donations in times of need.
However, pre-prepared blood products from the few animal blood banks aren't easily available in many parts of regional Australia, and if they are available, they can come at a huge cost. That is why local blood donor dogs are often needed ere to help in case of emergency.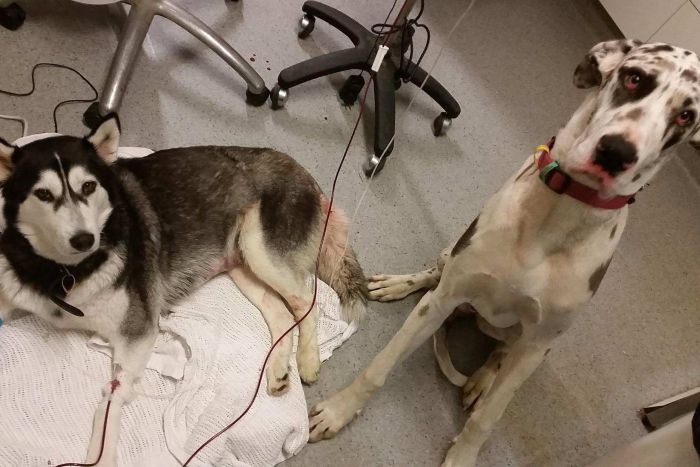 Mia, the Great Dane, who is only 4 years old, has been donating blood since 2016 and has donated on more than 6 occasions. In the farming regions around Dalby in Queensland where she lives, accidental baiting of dogs through the use of rodenticides is not uncommon. Thanks to Mia many dogs' lives have already been saved.
Learn more about Mia and some of the other local heroes that give their blood to save life.
Bailey – on seagull duty
The Australian National Maritime Museum in Sydney tried everything to keep seagulls off their pier and off the vessels which form part of their exhibition.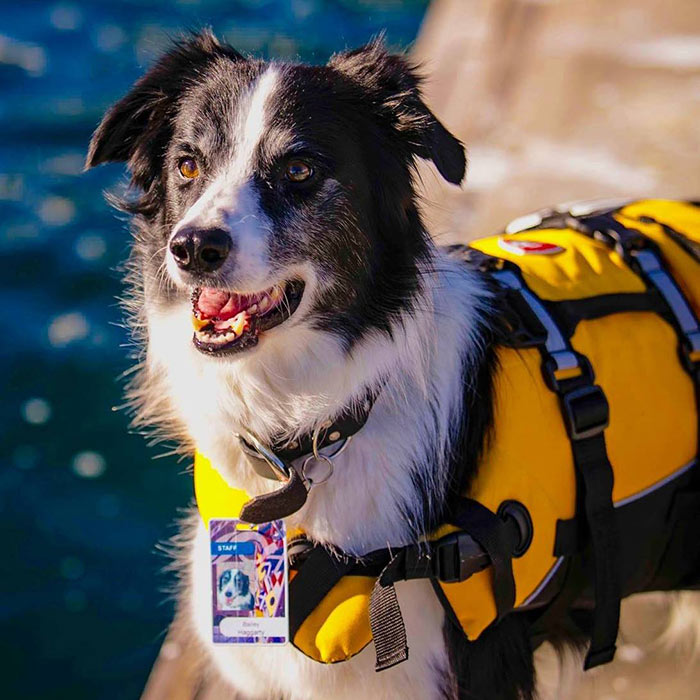 They tried fake birds, sonic repellent, spray bottles …you name it, with little or only short-term success. That was, until the border collie Bailey Haggarty joined the museum team in 2016. Bailey is now three years old and his main duties are to patrol the premises and chase the seagulls away. Before Bailey joined the work force of the museum, staff had to wash the seagull poop off the vessels and restore any paint damage left by the poop. Bailey has saved the museum a lot of money, water and time; and he is environmentally friendly too!
But Bailey doesn't just keep the seagulls away, in his down time he often greets visitors or socialises with the museum staff.
Learn more about Bailey here and follow him on Facebook.
Mezzo – the guardian of the Little Penguins!
In 2015, a movie called Oddball, brought attention to Middle Island, just off the coast of Warrnambool, a city in south-west Victoria. Situated about 150 metres from the Warrnambool foreshore, Middle Island is connected to the shore by a tidal sand bridge.
Fox attacks had almost extinguished the local colony of Little Penguins, with less than 10 animals left in 2005. In 2006 a guard program was started which used Maremma dogs to guard the population from predators. Maremmas are livestock guard dogs indigenous to central Italy. Especially when raised with the flock from puppy age, they are fiercely loyal to their flock and wary of strangers.
According to the latest count in 2017, the colony had grown to 182. But in August 2017 another fox attack almost wiped out more than a third of the population. Usually the penguins arrive in October, but that year they arrived in August. At that time no dogs were on the island as conditions with high tides and bad weather were believed to be too rough for the dogs, as well as the foxes.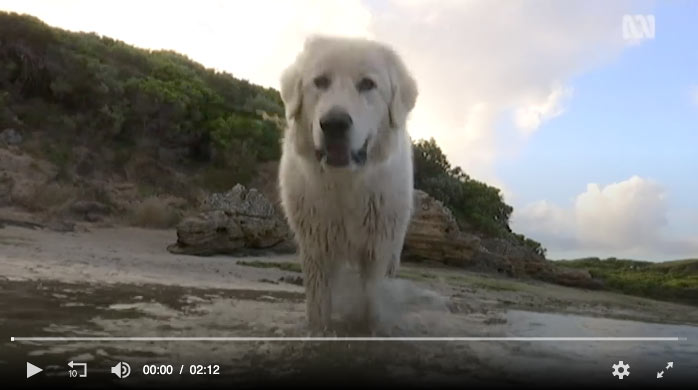 But then along came Mezzo, the conservation warrior, penguin guard and protector of the flightless! Mezzo joined the line of penguin protectors in February 2018, and since then he has already excelled – in his first summer on the island, the penguin population has already improved significantly.
Learn more about Mezzo and how he has been trained.
Maya – helping protect Australian wildlife
Maya was abandoned in a shelter, without a name or history, until she was rescued and trained to become a Koala detection dog. What may have been an issue for others worked to her advantage: Maya was obsessed with chasing balls. This proved to be a very valuable skill for her new role as a detection dog.
Today, Maya helps to save Australia's threatened Koala population by detecting koalas' habitat in the wild and helping scientists to protect the species.
Learn more about Maya here.
The Dog on the Tuckerbox
Whilst he is not a "real" dog, he stands for so many. The sculpture of the 'Dog on the Tuckerbox' is located in Gundagai, New South Wales and was revealed in 1932. It is a tribute to the pioneers and is inspired by the bullock drover's poem, "Bullocky Bill" which in the 1850's created the legend of "The dog on the tuckerbox".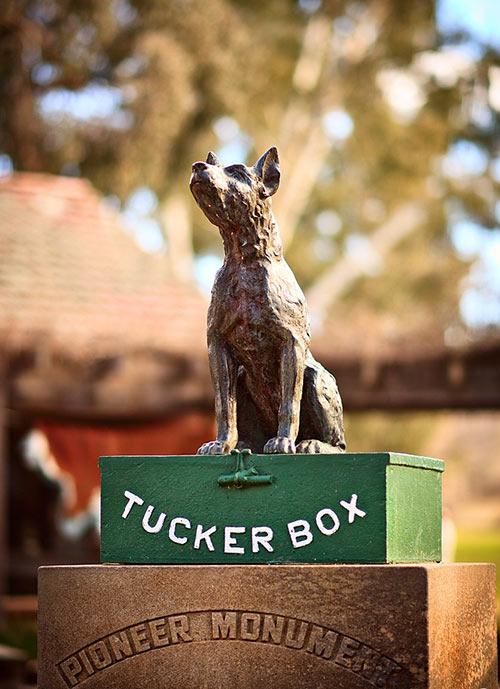 Back in those days, times were hard and hazardous. Supplies had to be transported on makeshift tracks by bullock teams. When the "bullockies" would get bogged or were waiting for river levels to fall at crossings, the dogs would often sit guarding the owner's tuckerbox (food box) and possessions while they were away seeking help.
The Dog on the Tuckerbox is another tribute to the amazing loyalty and service of our dogs.
Learn more about the Dog on the Tuckerbox here.
Benji – our Bow Wow Meow mascot
And not to forget are our everyday heroes – our beloved pets. The ones that are unconditional in their love, that make us laugh every day, that keep us sane and drive us insane at times. Like Benji the German Spitz, our frequent office visitor, who was found as a stray and rescued by one of our team. He never fails to greet the mailman with a bark, pull out empty food containers from the bin under a desk or jump on our laps in the middle of a meeting … Benji, you are the best workplace therapist!
How you can help on National Dog Day
Take your dog out for a play, teach him/her a new trick, buy a special treat or a new toy to say "thank you" to your four-legged friend.
Rescue a dog! Start the search for your new pawsome partner in crime here.
Can't have a dog of your own? Give some time or money to rescue organisations such as Fetching Dogs.
Like to support conservation projects? Help by supporting Maya and the other dogs at Australia's Detection Dog Center.
Or support returned service men and women with PTSD and their dogs . Find out more at Young Diggers and Whiskey's Wish.
Ask your vet if your dog is suitable to be a blood donor, and help with donations if possible.
Please share this article with your fellow dog lovers to promote National Dog Day!