20.10.21
Best Dog Collars & Leads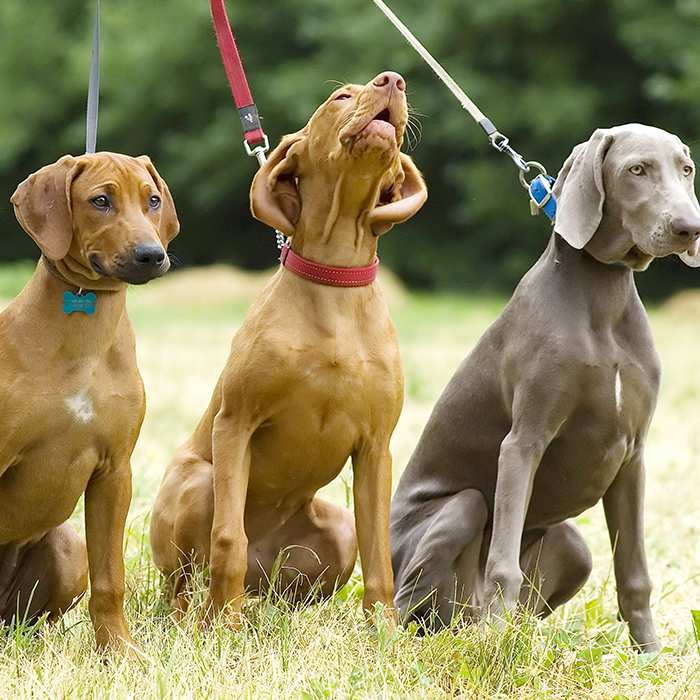 There are many different types of collars, leads and harnesses, and it can be difficult to know which one is best for your dog. In this review, we'll do the hard work for you with our recommendations of the best collars, leads and harnesses for your furry friend.
Best basic collar
This collar is not only secure but also stylish, with 10 different colour options, including purple, orange green camo, pink camo and bubble gum. It's made from soft-touch nylon webbing which is comfortable and soft for your dog but also super strong. The stitching on the collar is reflective, meaning you and your four-legged mate can feel safer when going for a night time walk.
The best feature of this collar, however, are its double D-rings for leash attachment. By hooking your lead onto both rings, the only way your dog could get away would be if you let go of the lead! The EzyDog Double Up Dog Collar is available in 4 sizes, from small to extra large, and is covered by a one year warranty.
Added bonus – there's an accessory D-ring for your stylish Bow Wow Meow pet tag!
Best luxury collar 
DOGUE Leather Dog Collar Glamour
This glamorous, sparkly collar is sure to turn heads. It comes in 5 different sizes and 6 different colours: Black, Blue, Pink, Red, White, and Fuchsia. Handmade from New Zealand Leather with one sold row of European crystals, your dog will look fabulous in this stylish collar. To top it off, matching leather and crystal leads are also available.
Team this collar with one of our Bling or Glitter Bow Wow Meow pet tags and your dog will be the envy of all its furry friends!
Best
eco-friendly

collar & leash
Doggy Eco Recycled Plastic dog collar and leash
Doggy Eco is a family run Australian business that is pioneering the way in sustainable and eco-friendly consumer pet accessories. Fashioned from recycled plastic bottles into a high tensile fabric, their unique collars and leashes are flexible, strong and 100% water impermeable to withstand the harsh Australian environment. They come in a number of colourful and stylish designs to emulate your dogs personality.
Collars and leashes are available in three sizes to fit small, medium or large dogs. Collars are adjustable to allow room for growth and shape to dogs neckline for comfort. Leashes are sturdy yet light weight and flexible, with a quick release buckle and a stainless steel D ring for doggy bag attachment. The unique material is as strong or stronger than a standard polyester because of the high volume weave count.
Best harness 
Some dog harnesses can be complicated and time-consuming to put on, but this Quick Fit harness claims to be as simple to fit as a collar, with just one click. Designed for comfort, the chest strap is made of soft neoprene on the inside and nylon on the outside, and is styled so as to minimise any pinching or chafing. Because it is made of water-resistant materials, you and your dog can go on all sorts of adventures.
The Quick Fit harness has a stainless steel ring to secure your lead to the harness, as well as an ID tag holder. It comes in 6 sizes (2XS to XL) and 10 different colours.
Best fixed-length lead 
Mendota Dog Snap Leash – Large
Available in 9 colours, 2 thicknesses (9.5mm and 12.7mm) and 2 lengths (1.2m and 1.8m), this braided snap leash is handmade in the USA from  polypropylene rope. It is UV coated to protect against fading, has a strong nickel or brass hook and leather accents, and is machine washable.
This handcrafted, waterproof lead will not fade in colour, is soft and comfortable on your hands, and is a great all-round everyday lead for your dog.
The Mendota Snap Leash is also available in size small (recommended size for dogs under 22 kg, the diameter of this leash is smaller). Matching Double Braided Collars are also available.
Best adjustable lead 
Petkit Go Shine Retractable Leash
This is a fantastic 3M retractable lead for active dog     s and their owners, particularly those who often take their walks at night. It features a RGB LED light system to help you and your dog see at night, rainbow colours to make your walks more interesting, and a safety light to keep you visible.
The anti-slip handle, extra-strong nylon tape and semi-auto locking system keep your dog secure and the retracting system allows for length adjustment as you go. The unit is USB rechargeable and is designed for dogs up to 30kg.