29.10.18
Best Dog Collars & Leads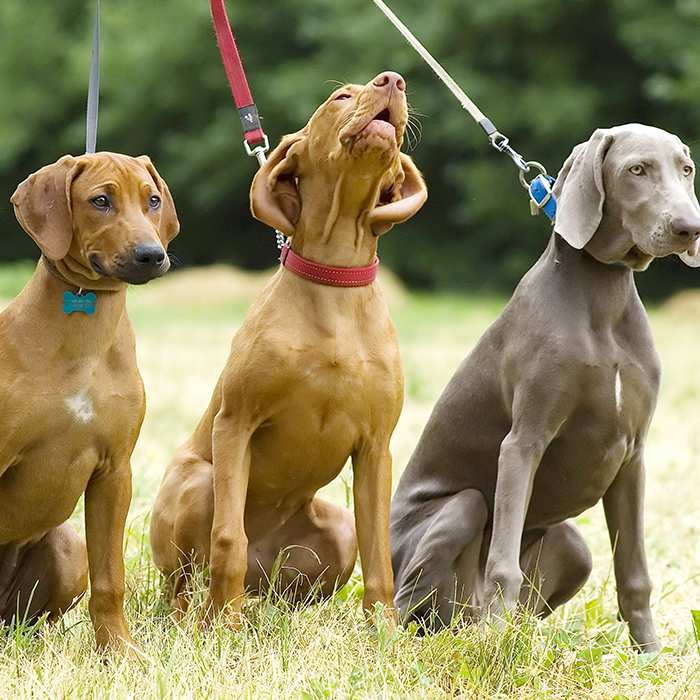 There are lots of different types of collars, leads and harnesses, and it can be difficult to know which one is best for your dog. In this review, we'll do all the hard work for you and find the best collars, leads and harnesses for your furry friend.
Best basic collar
EzyDog Double Up Collar 
This collar is not only stylish (it comes in 7 different colours) but secure. It's made from soft-touch webbing which is comfortable and soft for your dog but also super strong. The stitching on the collar is reflective, meaning you and your four-legged mate can feel safer when going for a night time walk.
The best feature of this collar, however, are its double D-rings. By hooking your lead onto both rings, the only way your dog could get away would be if you let go of the lead!
Even better – there's a separate ring for your stylish Bow Wow Meow pet tag!
Best luxury collar 
DOGUE Glam Rock Collar
This collar is sure to turn heads. It comes in 5 different sizes and 5 different colours. Handmade from New Zealand Leather and Swarovski crystals, your dog couldn't do much better than this stylish collar.
Team this collar with one of our Bling or Glitter Bow Wow Meow pet tags and your dog will be the envy of all its furry friends!
Best harness 
EzyDog Quick Fit Dog Harness 
Some dog harnesses can be complicated and time-consuming to put on, but not the Quick Fit harness. It's made of soft neoprene on the inside and nylon on the outside, meaning it's incredibly comfortable for your dog. Because it is made of these water-resistant materials,you and your fluffy partner in crime can go on all sorts of adventures.
The Quick Fit harness also features a steel ring so you can be sure your lead will be safely secured to the harness. It comes in 6 sizes and 9 different colours.
Best fixed-length lead 
Mendota Dog Snap Lead 
Available in 25 colours (including high-visibility reflective) and 2 lengths, this attractive lead is made of 13mm polypropylene rope and features a strong nickel hook and leather accents.
This handcrafted, waterproof lead will not fade in colour, is soft and comfortable on your hands, and is a great all-round everyday lead for your dog.
Best adjustable lead 
Animates Retractable lead with LED light 
This is a fantastic lead for active dogs and their owners. If you only get a chance to walk your dog at night, this is the lead for you. It features an LED light to help you and your pooch see and be seen at night, and combined with a reflective collar is the best way to ensure safety at night.
You can extend, stop, lock and retract the lead with the push of a button, making this a great training lead. It also comes with a safety collar which can be used alongside your dog's regular collar to ensure optimum security.