29.09.21
Dog Kennels Product Guide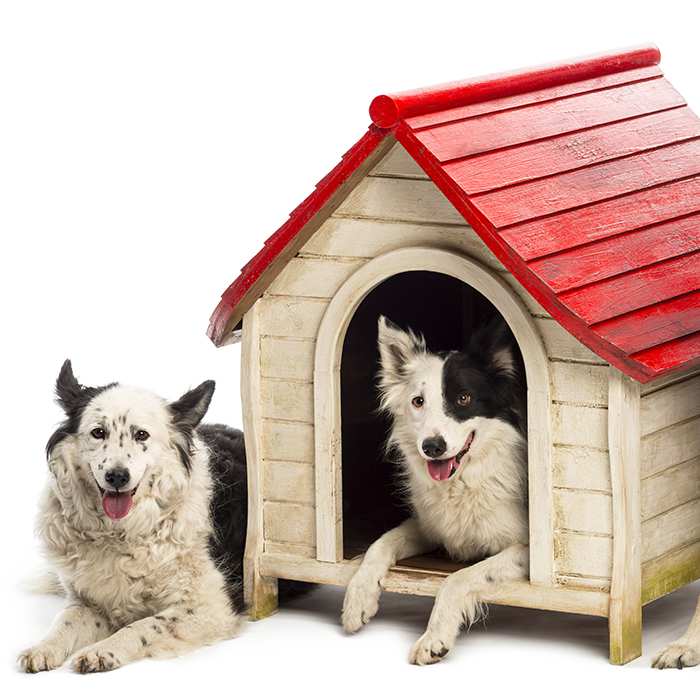 Choosing the right kennel for your dog is an important decision. There are many types available and it's important to consider all your requirements and what's best for your dog before jumping into any purchase.
The first thing to do is to consider the size. Our four-legged friends, just like us, come in a variety of shapes and sizes. Don't fall into the trap of buying a kennel that's too small or far too large.
Next, consider the materials the various kennels are made from. Many modern kennels are made from materials that are more hygienic and remain cleaner for longer than they did in the past. Also, make sure you consider the location you wish to position the kennel – indoors or outdoors, undercover, in a garage for example, or out in the backyard, open to the elements. Be sure to choose a material that is suitable for this environment.
Your dog's comfort and wellbeing relies on good research, careful planning, consultation with your veterinarian and making the right choice the first time. We've compiled a number of kennel types in this guide to help you make an informed decision when it comes to buying your dog's new home.
HoundHouse Original Canvas Dog Kennel
Built tough for Australian conditions, the HoundHouse Original Canvas Kennel is a fantastic Australian option. The canvas design has proven popular with dog owners as well as dogs that prefer the feel of a suspended dog bed to the hard floor of the more traditional types of  kennels. With a patented design, the robust steel frame is extremely strong and lightweight and the waterproof marine grade canvas keeps pets cool in summer and warm in winter.
The HoundHouse kennel is extremely lightweight, easy to assemble, easy to fold up and to transport, so it can be taken on camping trips or other pet-friendly holidays, or just moved in and out of the weather or as the seasons change. It comes in four sizes (small to extra large) and is suitable for all breeds of dogs.
Petmate Barnhome III Dog House
The Petmate® Barnhome® III dog house is a barn-shaped dog house that can be used in- or outdoors. It has rear air ventilation to promote air circulation, and an extended roof guard rim to divert rain and a raised interior floor to help keep your pet dry. It is designed to keep your pet warmer during colder months and cooler during hotter months.
Made from strong and durable plastic, this dog home is maintenance free, will never need painting and is rot and mould resistant. The two-piece snap together assembly takes just seconds, with no tools required. It simply sprays clean with a garden hose.  Available in a variety of sizes (XS, S, M and L) and two colour combos. Made in the USA and available online and at pet stores across Australia.
Somerzby Outdoor Timber Kennels
Somerzby is an Australian company with a range of wooden dog kennels to suit small, medium and large dogs. In fact, there is even a XXL double door kennel with a removable divider partition that can house 2 medium to large dogs or one large dog. Not only practical, these kennels also look great with their richly coloured wood grain contrasting with an asphalt roof and charcoal coloured trim. They are designed for comfort and for easy cleaning, thanks to the following features:
The waterproof, asphalt, sloping roof drains water away quickly preventing any moisture entering the inside of the kennel.
The solid wooden construction is rot resistant and long-lasting.
Stained with a non-toxic water-based stain for added water resistance (completely safe for your animals).
Hinged roof opens and floor simply lifts out for easy cleaning.
Plastic flaps hanging over the entrance keep out flies and other insects and to reduce cold winter draughts.
Specially designed feet raise the floor above the ground to keep out moisture and provide ventilation in summer.
The Bono Fido Soft Kennel 
The luxurious Bono Fido Soft Kennel is a portable soft kennel that acts as both a dog house and a travel crate. This two-in-one design is durable and comfortable, made from strong water resistant canvas with a removable woollen fleece floor pad, skid resistant foot pads, side pockets for storage and even pegs included for extra support to hold the kennel down on outdoor adventures. There are 3 different access points on the side, front and top for getting in and out of the kennel.
The Bono Fido Soft Kennel is perfect for trips away as well as for those who want a high level of comfort for their pet. There are four different sizes (small, medium, large & extra-large) and is available online and at many pet stores across Australia.
The Burrow Teepee Dog Bed
Designed in Australia by pet parents who wanted an indoor space that their dogs would love, the Burrow Teepee is a cosy, safe dog bed that mimics the caves and burrows that dogs have traditionally made their homes in. Its minimalistic, clean lines and neutral colours compliments most modern Australian living rooms – the tent and cushion colours can even be mixed and matched to suit your style.
The teepee fabric is duck canvas, with the poles sourced from sustainably grown Tasmanian Oak. The foam cushion covers are 100% cotton, can be removed for easy airing and both the teepee and cushion covers zip off for a cold machine wash. Designed for indoor use only and available in sizes small (up to 8kg) and large (8 to 18kg), the Burrow Teepee is easy to assemble in a few minutes.
Rascal Pets Barrel Kennel
The Barrel Kennel by Rascal Pets is Australian made from a recycled 44 gallon drum and painted in any colour of your choice from the Dulux Exterior Paint range. A brilliant looking kennel, fit for the great outdoors, the drum is perched upon wedges of red gum sleepers and available in 3 door style options: front door, side door 2 side door. Finished with 2 side air grills, the inside base is lined in ply to create a flat surface.
One size only: 89 x 57 x 60 cm.
Bono Fido Exercise Play Pen
Got an escape artist on your hands? Consider getting the Bono Fido Exercise Play Pen as an addition to your dog's kennel area. An exercise pen allows your dog to remain safe and where it should be throughout the day or night when you're not around and to have a secure area to stretch its legs or to play in.
This simple, light-weight fold out metal pen can be used in the backyard or indoors, or on excursions to the park or playground – it sets up easily into a variety of shapes and adjusts to fit the location. Made from heavy gauge corrosion resistant gold zinc coated wire, the pet folds flat for  storage. Available in 3 different heights to match the height of your dog, it can be combined with a kennel or wire crate.
Get the tools out and build your best friend a DIY dog kennel
If you or someone in your family is pretty handy around the house, you may want to consider the idea of taking on a DIY project. A simple Google search will show you there's no shortage of elaborate, over-the-top dog houses out there. While there's no need to knock together a mansion for your four-legged friend, there are a number of ways you can gather materials from around the house and design and build your very own kennel.
Here's a step-by-step guide from DIY Network on building your very own dog kennel. Or, why not try using recycled materials from the back shed or under the house—the options for a unique, innovative and eye catching design are really endless.
If still I doubt or unsure of what's the best fit for you and your furry little friend, don't hesitate to ask your vet the next time you visit. Your veterinarian will gladly advise you on the best kennel and sleeping arrangements for your dog.