07.05.19
Bringing your new puppy home
What an exciting time – after all the waiting, you finally get to bring your new fur baby home!

Giving your new pup the best start
Once you arrive home, ensure that you give your pup time to investigate his new home and settle in. This includes showing him where he is going to sleep, where his water bowl is going to be and what toys he can play with.
Your puppy is likely to be hungry from all the excitement and new experiences. After he has finished investigating and is happy running around, you can offer him his first small meal.
It is recommended that you use the same food that the breeder has been giving your puppy to keep changes to a minimum for the first two weeks. The combination of a new brand of food, feeding routine changes and a new environment can often be too much for a young puppy. If you do wish to change food, try to keep it the same for the first 10-14 days before changing.
Remember, your puppy will be away from his litter for the first time and everything will be new and scary for him. Take it easy and make sure you don't invite too many new people over to say hello. Give your puppy time to settle in and adjust to his new life before you get your friends and extended family to come over.
Puppy's first night
After all the excitement of the first day, your puppy will be exhausted and will need a good rest. However, remember that he will be away from his mum and littermates for the first time and might become restless at night.
To help your puppy settle into his new life with you, it is recommended that you place his bed or crate next to you at night at the start. Over time, you can move your puppy to his permanent sleeping spot, away from you if you wish.
Choosing your puppy's name
We suggest that you choose a few names before your puppy arrives. If you need some inspiration, you can search from the thousands of names on our pet names website. Once you get your puppy, say the shortlisted names out loud to him and make the decision as to which name best suits his personality. Keep in mind that you will need to call your puppy's name across the park, so make sure you don't choose a name that's embarrassing or difficult to pronounce. Read more naming tips.
Your puppy is likely to start responding to his new name after a few repetitions, so keep repeating it to him once you have chosen it.
Using crates and playpens
Crate training is great if you want your puppy to go on trips with you, or if you'd like to take him on a plane. Once you get your puppy used to sleeping in a crate he will feel happy and relaxed when inside the crate.
It also helps immensely with house training, as puppies that are confined won't soil where they sleep. Rather, your puppy will wake you up at night to indicate that he needs the toilet. This gives you the perfect opportunity to take your pup out to where you want him to go the toilet and give him a treat for doing it in the right spot. Another benefit of crate training is that even an overnight stay at the vet won't be very stressful for your dog, as he will be used to sleeping contently in a crate.
A puppy playpen can be useful for both toilet training purposes and for keeping your pup safe at times when you are not able to supervise him. The playpen should have a bed, water, toys and a wee pad.
It is a good idea to keep the puppy playpen in your living room or an area where you spend most of your relaxing time – that way your puppy can be near you but you won't risk tripping over him when you are busy cooking dinner!
Remember, your pup will thrive on spending time with his new family. Make sure that your puppy has a spot to settle – whether it is a playpen or bed – in the vicinity of where the family spends most of its time. Having the puppy's playpen or bed in the hallway away from the family can make him feel lonely and unhappy.
Puppy-proofing your home
Puppies like to investigate and explore. They learn primarily through discovering new things with their mouths. They have no concept of what is dangerous and are very inquisitive, just like a crawling baby or toddler.
It is important to ensure that you puppy-proof your house, garden, garage and any other areas your puppy will have access to. If there is anything you don't want him to get hold of, put it away. If alone or unsupervised, put your puppy in a playpen to avoid danger or destruction!
Top tips for puppy-proofing your home

Store all household cleaning products out of your puppy's reach. The same applies to any sorts of poison, medication etc.
Hide electrical cables.
Hide all small kids' toys so your puppy doesn't chew and swallow them.
If you have stairs, check there are no gaps for your puppy to fall through and make sure that he learns how to get down the stairs safely.
Check that your puppy's sleeping area is safe – remove access to any chewable items.
Check that there aren't any dangerous items in the garage that your puppy could pull onto himself.
Block off any areas in the house you don't want your puppy to have access to – baby gates are useful for this purpose.
Ensure that you have adequate fencing around your property, and make sure that your puppy's head can't get stuck in the fence.
Cover your pool/pond so your puppy can't fall into it.
Use baby gates to block your front door if you live on a busy road – puppies don't have road sense and will follow you outside.
Check your garden for dangerous plants, or plants that might cause skin irritations. Be mindful of fertilisers, insecticides and especially rat and snail poison – they are deadly to dogs.
Many indoor plants can be poisonous to puppies, so it is wise to keep all indoor plants out of reach when your puppy is in his chewing and exploration phase.
Download our Puppy Guide
We know that bringing home & looking after a new puppy can be a big challenge! Get more tips from puppy experts about all aspects of looking after your new puppy, including toilet training, socialisation, health & much more.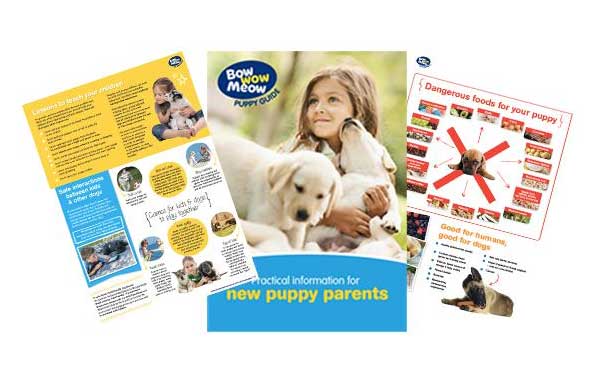 Get 2 months free pet insurance for your puppy!
Congrats on your new bundle of joy…
To ensure your precious fur baby is covered from the start, we'd like to offer you 2 months free in your first year. This promo will be automatically applied on sign up for pets under 12 months old.2