29.10.18
Hero dog stories of 2015 that moved us to tears
Trapped in the woods – Loyal dog stays at the side of her best friend for a week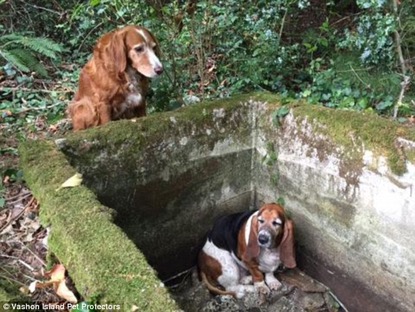 When two dogs, a Setter mix named Tillie and a Basset hound named Phoebe, went missing on 8 September 2015, their owner feared for the worst.
Whilst out in the woods, Phoebe became trapped in an old cistern in a ravine. Tillie patiently stayed by her side for a week, coming back to her after short breaks when she went to look for help.
Finding the dogs in the woods was like trying to find a needle in a haystack. But occasional sightings of a reddish dog near private properties helped volunteers get on the track of the missing dogs. The searchers made their way down into the ravine and finally heard a slight woof sound which lead them to the cistern.
Luckily Phoebe was able to stay out of the water in the cistern and her condition was better than expected. The dogs were happily re-united with their owners and are now safely back home. Amy Carey from the NGO who helped with the search said 'Not sure Phoebe would have ever been found without Tillie's help as they were miles from the last place spotted.'
What can we learn from? Never give up on a lost dog!
Read more:
http://www.dailymail.co.uk/news/article-3239032/Dog-stands-guard-WEEK-trapped-friend-pair-together.html
https://www.thedodo.com/lost-dog-saves-trapped-friend-1353550663.html
Puppy mill survivor wins Hero Dog Award for 2015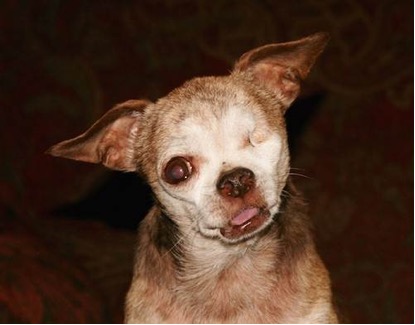 Harley the Chihuahua spent the first 10 years of his life in a small cage in a commercially operating puppy mill. When rescued by volunteers, poor Harley was urgently in need of medical care. Among other conditions, he had lost an eye, his teeth were infected, his tail was broken and he had heart disease.
Given just 2 -3 months to live, no one would have believed that Harley would survive another 5 years. During this time he served as the ambassador for 'Harley to the Rescue', a campaign that raised funds to save and medically care for more than 500 puppy mill survivors. Harley himself met many of these dogs and had an incredible calming way of communicating with the sad and scared dogs. By being the face of the campaign, he also educated thousands of people about the truth of the inhumane animal treatment suffered by dogs in puppy mills.
To honour Harley and his role as an ambassador, he was awarded the Hero Dog Award of the American Humane Association in 2015.
Sadly Harley passed away on 20 March, but died peacefully at a ripe old age in the arms of the family who adopted him.
Good night, Harley…a little dog with a big dream.
Read more:
http://www.today.com/pets/2015-american-hero-dog-harley-wins-humane-association-award-t45131
https://www.facebook.com/harleyfreighttraintaylor
http://herodogawards.org/dog/harley-2/
Heartbreaking farewell to Judge, the police K9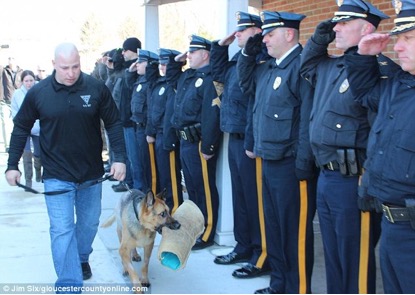 When walking along his guard of honour in February 2015, retired police dog Judge proudly carried his favourite training sleeve past police officers, canine colleagues, nurses and vets who were saluting him to pay their respects.
From the commencement of his career at West Deptford police department in New Jersey, USA as a police K9 officer in 2007 to his retirement in 2013, Judge was deployed 208 times and played a key role in 152 arrests. He quickly became not just a valued colleague but also a highly respect member of the community. In June 2014 however, he was diagnosed with Cushings Disease and despite best medical efforts and more than US$13K being raised for his treatment, his condition deteriorated. It was a very sad day when the decision was made to put him to sleep. His last walk down past the guard of honour was a moment of pride and emotion for everyone saying goodbye to Judge.
Thank you, Judge, you made the world a better a place!

We also want to pay our respect to all the other fantastic service dogs out there that help us humans every day.
Read more:
http://www.dailymail.co.uk/news/article-2964631/A-hero-s-farewell-Police-officers-dogs-line-streets-veteran-K-9-unit-taken-hospital-down.html
Nala helps make a nursing home a better place to live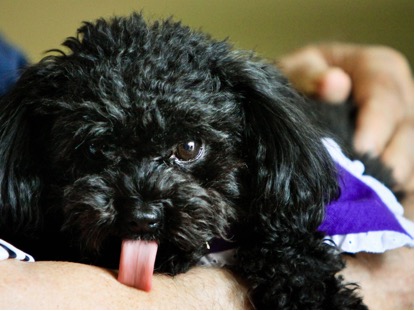 A little black Teacup Poodle named Nala is the 'angel' of a nursing home in Minnesota, USA. Nala, who was originally evicted from a therapy program because she was seen as too 'whiny' and 'neurotic', has not received any formal training. However, in the care of her human, Doug Dawson, medications assistant at a nursing home, Nala has thrived and become the best therapy dog imaginable.
When Doug and Nala go to work together, their paths split at the door – where he goes to his workstation and Nala follows her own schedule. She rides elevators by herself, decides who will need her attention most on any given day and goes from resident to resident, bringing smiles to their faces and love to their hearts. Remaining by the side of residents who pass away without being told, or being there for any who are sick…Nala has a special ability to seek out those that most need her affection and love.
It's not just the residents who call Nala an angel. Thank you Nala for being the awesome little dog you are!
Read more:
https://www.thedodo.com/toy-poodle-visiting-nursing-home-1092627899.html
http://www.usatoday.com/story/news/2015/04/13/inspiration-nation-teacup-poodle-nala-angel/25701151/
Piper the runway dog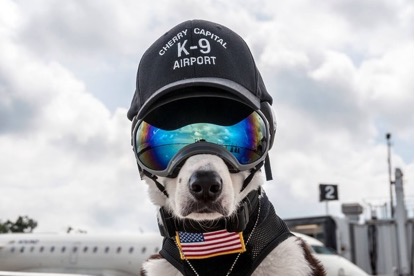 When speaking about dogs working at the airport, we usually think of sniffer dogs. But Piper, the 7 year old Border Collie has a rather unique job description at Cherry Capital Airport in Traverse City, Michigan, USA. Piper is a runway dog!
Never heard of a runway dog? In a nutshell, his job is to chase birds! The problem is that flocks of birds have impacted the airport's air traffic in the past, with planes unable to take off or land safely because of wildlife blocking the runways and taxi areas.
Now, thanks to Piper, this is history. Equipped with his safety gear of protective goggles, a special vest and boots if needed, he doesn't just look cool, he also takes his job seriously. Every day at work Piper and his owner and handler Brian Edwards clear the area of any deer, foxes and other wildlife.
Just think about how much most dogs love chasing birds – we think this must be his dream job!
If there was an award for the coolest dog dude on the planet, it would go to Piper, no question. Well done, mate.
Read more:
http://www.buzzfeed.com/leticiamiranda/this-dog-looks-very-cool-while-on-the-job-keeping-airport-ru#.ga2Akb2Nkn
https://www.facebook.com/airportk9
http://www.airportk9.org/